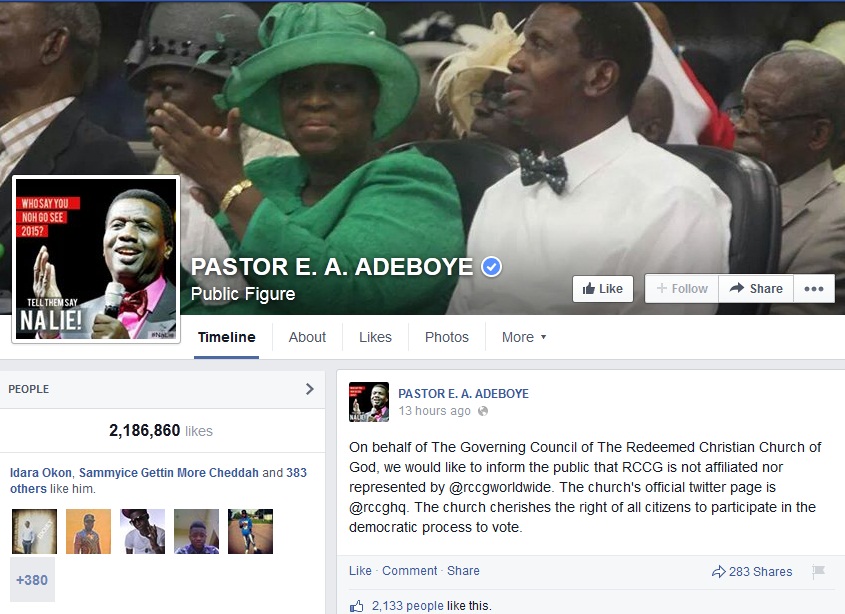 Now there's this deception being cooked about Buhari's Vice Presidential Candidate Pastor Osinbajo and RCCG. Shortly after his selection, a Twitter
handle @RCCGworldwide with above 180 thousand followers, purportedly belonging to RCCG tweeted the picture of Pastor Osinbajo with the words 'Let somebody shout Hallelujah', a signature phrase of Daddy GO, Pastor Enoch Adeboye. This Twitter handle, despite being fake, has far more followers than the REAL ONE belonging to RCCG with handle @rccghq, which had a little above 7,000 followers! Talk about the analogy of narrow way to heaven and broad way to hell! The real scoop is that RCCG came on their official Facebook message to denounce that tweet from the fake handle! Read in-between lines over this action by RCCG. I don't want to think for you, use your head by yourself! But one thing is very clear; RCCG is not behind Osibajo. A bigger fail awaits this TeamBuhari this time clearly.
Christians, you can now clearly see the wool they want to pull over your eyes! E dey clear like crystal so! Trying to fool Christians is the worst mistake these fellows are making. As a TRUE Christian, even if I wanted to vote Buhari, this is more than enough for me not to let Buhari and his cohorts know that CHRISTIANS ARE NOT FOOLS! Am Not A Member of redeem oh but that is my daddy 🙂 Somebody Shout Hallelujah.
Comments
comments