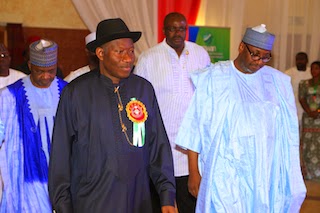 President Goodluck Jonathan, capitalising on his incumbency advantage has raised N21.27billion from businessmen,
governors and multi-nationals to fund his second-term campaign. The fund raising for the president took place Saturday at a dinner at the old Banquet Hall of the Presidential Villa, Abuja.
Roll Call of other donors:
Mr. Tunde Ayeni, chairman of Skye Bank and chairman of the occasion was the first to announce a donation of N2billion, for himself and friends.
The Chairman of the fundraising committee, Prof. Jerry Gana, said his friends and associates in the power sector were donating N5billion.
The PDP Governors Forum announced N1.05billion, with each governor donating N50million. There are 21 PDP governors in the country.
Other Donors were:
*Oil and Gas sector :N5billion;
*Transport and Aviation, N1billion;
* Food and Agriculture, N500million;
*Power, N500million;
*Construction, N310million;
*Road Construction, N250million;
*National Automative Association, N450million;
* Shelter Development Limited, N250m.
*SIFAX group: N100m
*Rivers PDP Stakeholders: N50million
* Niger Delta Development Commission: N15million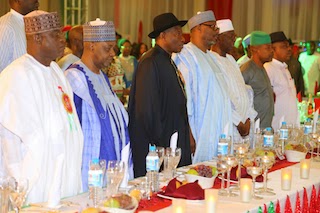 Mr. Joseph Makanju, representative of the Chief Fund Raiser and Chairman of the Dangote Group, Aliko Dangote said his principal, who was outside the country, did not leave a mandate. He, however, promised that as soon as Dangote returned to the country, he would personally see the National Chairman of the PDP, Adamu Mu'Azu, to offer his support.
Jonathan said the funds would not be wasted or misused, stating that the money was for the PDP and that the amount generated would help to run the PDP better.
"I thank everyone who made donation tonight," said Jonathan.
PMNews adds that despite the hefty sum raised, some of the party chiefs expressed apprehensions about the 14 February election, saying it will be tough as Jonathan faces an old electoral foe, Maj. General Muhammadu Buhari of the All Progressives Congress.
Comments
comments