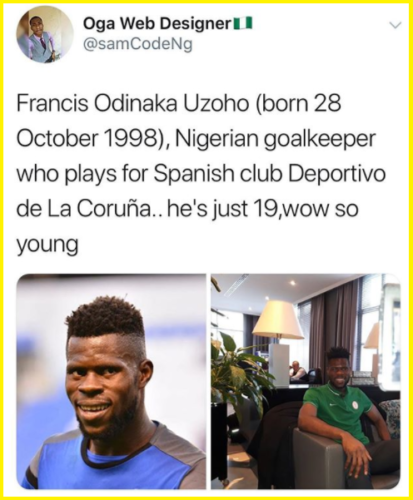 Deportivo Fabril of Spain goalkeeper, Francis Uzoho who is just 19years has stated that there's more to come from him and the team after he made his first start for the Super Eagles,reports Completesportsnigeria.com.
Be the first to know, join our WhatsApp group using this link CompleteSportsNG
Uzoho kept a clean sheet in his first start for Nigeria who defeated Poland 1-0 in an international friendly game played at the Municipal stadium in Wroclaw also thanked those who had faith in him.
The 19 year old endured a jittery start to the game but grew in confidence to make crucial saves denying Robert Lewandowski twice in the encounter.
"God is able#good win#more to come#Eagles?#thanks all for the believe# IN CHRIST ALONE," Uzoho tweeted after the game.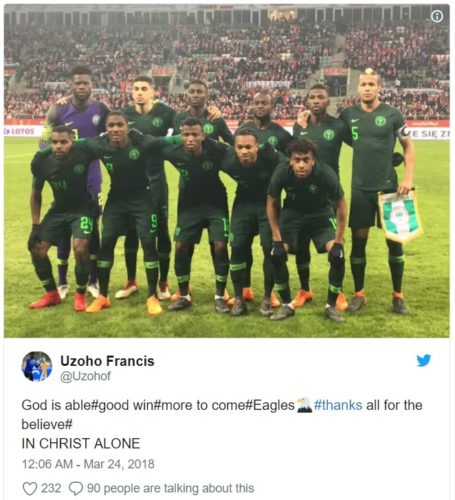 The game was Uzoho's second cap after he came on as a second half substitute in the 4-2 comeback win over Argentina last November.
The former Golden Eaglets shotstopper who has kept 12 clean sheets this season for Deportivo Fabril in the Spanish third tier division is expected to play a part in the Super Eagles next game against Serbia next Tuesday.
Can Francis Uzoho shoulder Nigeria's World Cup ambition?
With Nigeria's goalkeeping situation still unclear less than three months to Russia 2018, the youngster is making a late play, but is he up to it?
It is scant consolation, but there is some comfort in the knowledge that every national team has a weakness. Unlike club football, with its billionaire oligarchs and rampant avarice, in international football, God or fate or genetics (take your pick) deals you a hand, and you have to roll with it.
Well, it's consolation for the opponent, of course. Not so much for the team in consideration, so tantalizingly short of a full house. There is, as such, a tendency to magnify this flaw, in the same way a pimple seems to draw the eye, and fingers.
This perfectly explains the borderline hysteria around the uncertainty of Nigeria's goalkeeping situation. By no means is the national team overflowing with world-class talent, but whereas the youngest average age of all the World Cup teams imbues a sense of hope and potential, there is no such comfort between the sticks.
There is young Francis Uzoho, though. Still only 19, he has a modest career in the Spanish third tier as credential, and in his favour, the trust of the Super Eagles coach, Gernot Rohr.
That latter has ensured the former consideration has not adversely affected his chances, and on Friday he started in goal for Nigeria for the first time.
Nigeria vs. Benin
Given the peculiarity of his situation, as well as Rohr's, it was imperative that the German tactician reach a decision quickly regarding his preference, and also back his horse, as it were. Ikechukwu Ezenwa, incumbent in the position for much of qualifying, had yet to convincingly stake his claim, and has played one game this year for club side Enyimba.
It appears now that Rohr has shown his hand. The early signs are decidedly mixed. There were bloopers, shaky handling, and instances of weak kicking. Twice, he was completely at sea on set-piece deliveries, one of which resulted in what might have been the opener, had the referee's assistant realized the ball had crossed the line.
Then, in the second half, there was a calm, and greater authority in his decisions. He seemed more relaxed in his area, more in-control.
This pattern, considering the context, was to be expected. Making his full debut in the packed Stadion Miejski, nerves were not only understandable, but inevitable. Robert Lewandowski and Francis Uzoho
The greater testament was his growth through the duration, adjusting to the demands of the game as time went on. By the time he pulled off a big save one-on-one from Robert Lewandowski, his confidence was brimming.
It is imperative now that he starts again on Tuesday against Serbia in London, not least because this represents the baseline being raised in a sense. Building on this new level of confidence is surely the best way to get Uzoho where he needs to be for the World Cup.
He is not the finished article, by any stretch of the imagination. However, it is time to look reality dead in the eye: Vincent Enyeama has torpedoed, once for all time, the idea of a return, and Ezenwa isn't any more reliable. Francis Uzoho
There will be no perfect goalkeeper springing fully-formed from the sea, no Nigerian Gianluigi Buffon appearing out of nowhere like a foundling carved out of onyx.
What we do have is a collection of middling options, with which we have to make do.
We must accept that there will necessarily be mistakes, and work both with and around that.
Uzoho showed, in that second half at least, that he is up to the challenge.
How the technical crew handles it from here on out will be key in determining whether or not he rises to the occasion when the Super Eagles kick off against Croatia in June.
Comments
comments