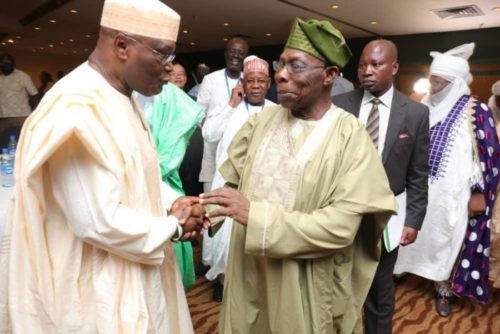 Here are six key things ex-president Olusegun Obasanjo said during his press conference after meeting with his former sVice President now PDP presidential candidate, Atiku Abubakar -He referred to Atiku as the President-to-be
-He said Atiku has shown remorse, asked for forgiveness and has indicated that he has learnt some good lessons.
-He said as a Christian, he has forgiven him wholeheartedly.
-He said there are still areas, nationally and internationally, where Atiku has to mend fences and make amends and that Atiku will know how to handle what is already out and what may yet be put out by the opposition. Obasanjo also said if Atiku is remorseful and has a contrite heart, the rest of the coast within and outside the country can be cleared
-Obasanjo said from what he personally knows of Atiku, he has the capacity to perform better than the incumbent, President Buhari and that Atiku surely understand the economy better; has business experience, which can make his administration business-friendly and boost the economy and provide jobs.
– He said Insha-Allah, Atiku will become Nigeria's next President.
Comments
comments