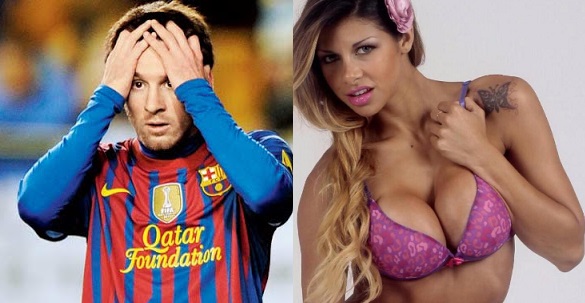 Lionel Messi's year could get worse, thanks to Xoana Gonzalez's confession on TV.
Argentine model Xoana Gonzalez has lifted the lid on Lionel Messi's bedroom life. In an interview with a Peruvian TV show called 'the value of truth' Gonzalez (below) described the bedroom experience with the 29-year-old as 'having s*x with a dead body.'
Xoana GonzalezMessi, who is currently with the Barcelona squad in their pre-season tour, reportedly got intimate with the model some years ago. She revealed:
"It was many years ago. In truth he was very young. But he knew what he was doing, was not minor, that was the important thing.
"His security told me 'got someone you want to know'. I was curious to see who it was, and froze when I saw it was my idol Messi I froze.
I said that he is the wimp, though because he sent his security to get me. There I noticed that he is very shy.
We talked about music and cannot remember if he told me he had a girlfriend or not. After a while we went to his apartment in Puerto Madero.
"When one plays across the whole pitch, you expect someone to return the favour. I wanted him to show me more than that. At one point I felt like I was with a dead body."
Her comments on TV could hurt Leo's image further after a torrid year. From court cases to losing in the finals of the Copa America Centenario, Messi's only solace in his football career this year derives from winning La Liga and Copa del Rey with Barcelona.
The legendary footballer is currently married to his childhood sweetheart Antonella Roccuzzo.
They have been married since 2008, and blessed with two kids so far; Thiago and Mateo Messi
Comments
comments