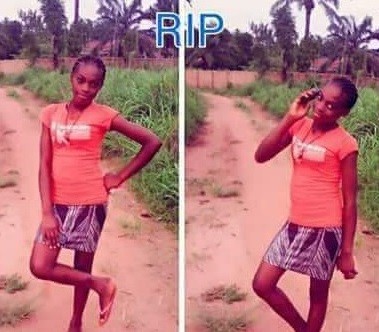 A young girl simply identified as Chioma was ra ped and mur dered in Umuokpa village, Oba Idemili South Local Government Area of Anambra State.
According to Facebook user Nnadozie Onwubiko, who shared the report, the girl was ambushed by unknown men on her way home. She was gang ra ped, mur dered and her body dumped by the roadside. Below is his post:
THE UNPRECEDENTED RATE OF RAPE OF YOUNGSTERS IN ANAMBRA STATE HAS BECOME A MENACE… THIS YOUNG GIRL WAS GANG RA PED AND MUR DERED IN OBA… HER MUTILATED REMAINS ARE TOO GRUESOME BUT ARE UPLOADED HERE SO WE SEE THE LOW LIVES THAT MOVE AROUND AS YOUNG PERSONS… Someone reported that this incident happened about this week but the rap ists are on the run… NIGERIA POLICE AND DSS THAT ARE GOOD IN CRUSHING IPOB UNARMED PROTESTERS MUST FETCH THESE DEADLY RAP ISTS AND GET THEM PROSECUTED AND FACE THE FIRING SQUAD..
Another person wrote:
"Whatever you're doing in this world remember that karma exists.. What goes around comes around"

This innocent girl chioma from umuokpa village Oba!  she lives with her mother at ogwugwu oba Was abushed by unknown men..they ra ped and slaughtered her…i suggest  they kil led her because maybe the girl knows them or they fear she might recognize them.. Honestly ndi mmadu nwelu obi!!".
Comments
comments