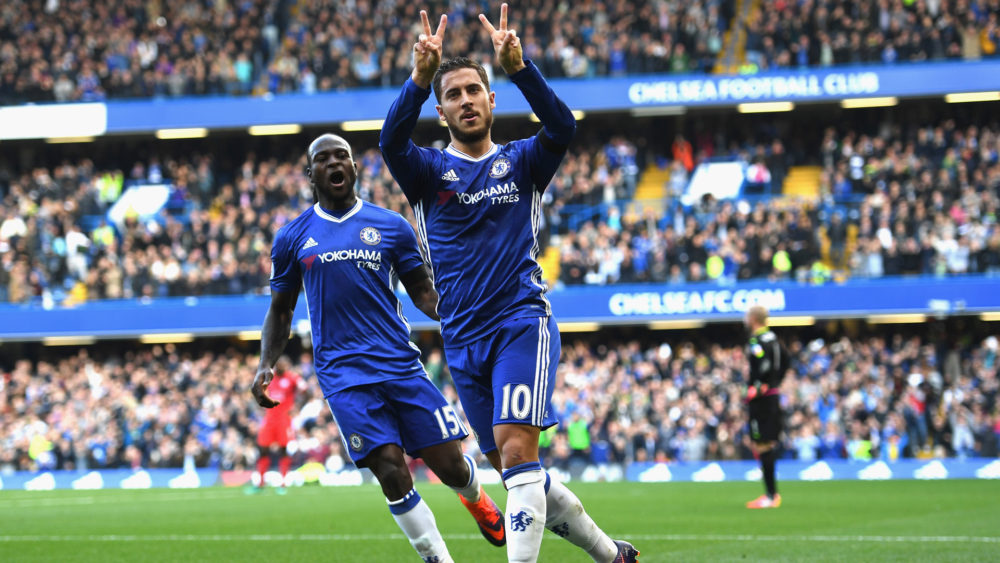 Chelsea have won the Premier League title after defeating West Bromwich Albion 1-0 at the Hawthorns.
A late goal from substitute Michy Batshuayi gave the Blues three points, which mean they hold an unassailable 10-point advantage over Tottenham.
It is the sixth time that the Stamford Bridge side have won England's top flight and the fourth time since 2004-05 that they have claimed the Premier League title.
Their campaign has been one of virtual unabated excellence since a sticky period in September, when they lost successive matches against Liverpool and Arsenal saw them drop as far as eighth.
Manager Antonio Conte, who arrived in the summer to guide the team after a disappointing 2015-16 season, thereafter altered his side to play with three at the back, and that proved the catalyst for a 13-match winning streak that proved to be the decisive run as they claimed the crown.
The Blues subsequently lost London derbies against Spurs and Crystal Palace, while they also went down against a Manchester United side led by Jose Mourinho, sacked 18 months earlier as they made a woeful start to their title defence.
Ironically, though, Conte's men seemed to be aided by their lack of European football, as it left their squad free to focus on domestic matters as their chief rivals faltered.
Indeed, Chelsea can yet complete a league and cup double as they face Arsenal on May 27 at Wembley in the FA Cup final.
Conte's men have been recognised individually as well as collectively, meanwhile. Summer signing N'Golo Kante won the PFA Player of the Year award and also claimed the Football Writer's prize, with Eden Hazard finishing as runner-up in both categories.
Diego Costa has been their top scorer in the Premier League this season, having netted 20 goals for the campaign to date, just four shy of the division's leading marksman, Romelu Lukaku. We congratulate anyone who put Costa in their Premiere league dream team this football season. FanDuel offers a Premiere league fantasy tournament running weekly instead of seasonally, this is a good option for football fans who don't have the time to keep up with football news and games because of jobs requiring most of their time. Will you be placing Costa or Hazard in your dream team next season? Fans of Chelsea's rivals might be feeling a little alienated right now and maybe even a little aggrieved about having paid such extortionate fees in order to support their team. One thing we are all hoping for next season is a reduction in the price of season tickets. Chances are this is not going to happen, so it's up to football fans to try and find creative ways to afford these season tickets. Trying to find the best broadband prices on a switching site is an option. Anyway, rant over. Let's get back to Conte's Chelsea.
The long-term aim for Conte must be to maintain the momentum created by this success and ensure that his squad does not fade in the same manner that Mourinho's did previously.
Chelsea fans can also look forward to European nights once more, with the Champions League set to return next season. Football crazy websites like foot and ball are eager to give you all the updates when the new season starts.
Comments
comments