The Decoy Team of the Rapid Response Squad has arrested seven barons for importing 8 physically challenged children into Lagos for begging on Mobolaji Bank Anthony Way, Ikeja, Lagos.
The seven Barons along with 6 of their 8 beggars were arrested mid – day on Monday, after almost a week of monitoring.
Amongst the Barons arrested were: Sanni Isiaku (40), Abubakar Gahu (50), Abdullahi Mohammed (45), Nasiru Yusman (21), Mato Abdullahi (20), Nura Idris (17) and Sagiru Ibrahim (26).
The physically challenged children found in their possession are: Aminu Kabiru (12), Yusuph Nasiru (9), Amina Kabir (12), Ayuba Idris (12), .
According to Mato Abdullahi, "I borrowed Amina Kabir from her mother who happened to be my sister. I bring her early in the morning to 'Underbridge' to beg. She begged while I wait around.
At the end of the day, we make between N3000 and N4000. Depending on what we made, I remove my own and I hand over the remaining to the lady.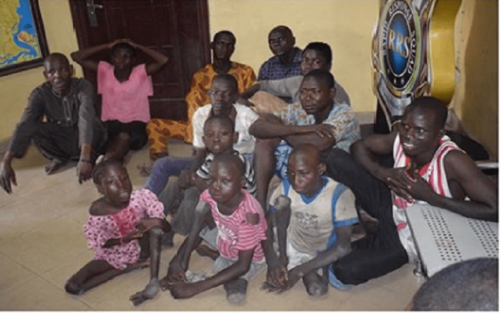 Before, we make between N5000 and N6000. But now, things have changed. We don't make up to that anymore. A lot of us are here now. Before you get to one car, another set of beggars have gotten there.
We have other people we settle daily. He is like our overseer. He has his own cut in what everybody makes. He comes through for us whenever there are problems like arrests.
According to Abubakar Gahu, "I use my son for begging. There are five of them. He is physically challenged. Three others are in school in Agege. The last one is still very young.
He is the one I use in making the money from begging. While his brothers go to school, I bring him here for begging. It is whatever we raise daily that we use in maintaining the family."
The case has been handed over to the Gender Department of the Lagos State Police Command.
Comments
comments