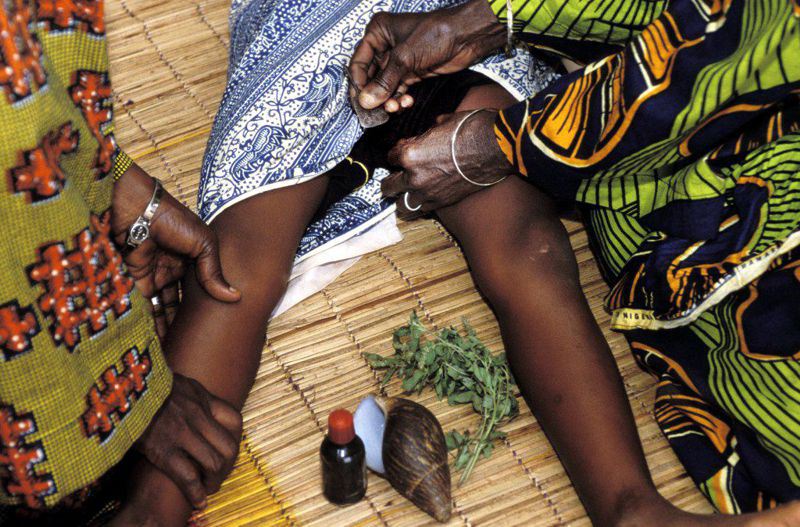 My mind raced back to one of my many conversations with my dear friend Bella as I listened to this guy's argument on why his five year old daughter must be circumcised. His poor wife, Aduni, had asked me to help talk to him.
Had she known that this would be his decision, she probably would have kept her discovery to herself. That she had caught their little girl playing with her clitoris.
My friend, Bella has a similar challenge. You'll often hear her describe herself as an incomplete woman or freak whenever the issue of se'x comes up in our discussions. A very cosmopolitan extrovert and successful Lawyer, Bella exudes confidence and accomplishment and it is quick to notice that she is on top of her game. Only those very close to her get to know her other side of her life. And though she has never showed me physically, she'd given a very graphic picture of what she looks like down below, several times. This she said was her main reason for walking out of her marriage after birthing her only child. It was pointless enduring the se'x when she felt no pleasure.She had panicked, thinking that their innocent angel had been corrupted and might now grow into a common slut, if something was not done quickly. But while she had been lost for what to do, she had least expected that circumcision would be her husband's solution. Aduni said she had been raised in the village and circumcised, so she had experienced the pains and discomfort associated with female circumcision and is now living with its aftermaths. She was not sure if she wanted her beautiful princess to go through the same or live her life the way she was being forced to.
For many women, the inability to experience full se'xual pleasure or achieve orgasm during se'xual intercourse has remained an elusive mirage, leaving most who are not even circumcised, confused with many unanswered questions. Studies have shown that men are likely to orgasm 90-98 percent of the time they have se'x. In fact, this is often the way a woman knows that the game is over. Unfortunately, same cannot be said about the woman and not a few reasons are responsible for this.
Several major research works on human sexuality record that only about 25 percent of women climax or experience intense se'xual pleasures during se'x with their partner, while 40–50% have either complained about se'xual dissatisfaction or experienced difficulty becoming se'xually aroused at some point in their lives. These figures are significantly higher in African societies and cultures where Female Genital Mutilations (FMG) as well as other cultural practices are predominant and act as inhibitors.
Orgasm can be simply described as the release of built up sexual tension in both men and women during a se'xual encounter. The inability to have orgasm after ample se'xual stimulation is called anorgasmia or ejaculatory anhedonia. For many women, not being able to climax can be caused by everything from unrealistic expectations, to awful sex, to discomfort with their bodies, discomfort with their partners or discomfort with se'x itself.
This is to the exclusion of medical conditions, se'xual abuse, rape and their aftermath traumas. In fact, biologists and researchers for many years have been trying with little success to figure out the whole concept of the elusiveness or even why females orgasm at all, since their reproduction does not depend on it unlike the male. However, what they have successfully been able to figure out is how women can achieve orgasm. And every woman can learn to, if they really want.
To know if you have ever experienced the big "O", or will ever actually do, you need to understand what it is in the first instance. After all, if you are travelling to a new destination, you will not know if you have arrived there without an address or map guiding you to the location. The truth is that most women who have taken time to study their bodies, especially the sex organs and how they work, find it easier to enjoy their se'xual relationship. In the same way, a man who is knowledgeable about the female body will understand and know how to set it in correct motion.
Sigmund Freud was the first to suggest that there were two types of female orgasm, the Clitoral and the Vaginal orgasms. He went on to describe the clitoral orgasm as a juvenile act of pleasure, to be experienced while in one's youth. Freud said once a woman matures she will go on to experience the vaginal orgasm as a result of stimulation through penetrative se'x or intercourse. It would appear that many men are fixated with this theory.
A friend once told me something similar to this position. According to her, she has only experienced orgasm three times in all of her 19 years relationship with her husband, which includes three years of courtship. One night during one of her few outbursts on her lack of se'xual fulfilment in the early days, her husband had categorically told her that he found it weird that he had to bring her to climax with his fingers. A full grown woman according to him, must learn to orgasm through se'xual intercourse. She must figure out how to adjust. The subject died a natural death that night and has never been discussed again. She has been coping ever since. Hmm!
However, se'x researcher, Alfred Kinsey will later refute Freud's claim in his own study which according to him revealed that there is only one type of female orgasm. To him, an orgasm is an orgasm so long as it takes place inside or outside of the female genital, no matter which part of her body was being stimulated. Most sexologists and researchers over the years have corroborated Kinsey's findings, insisting that the area located in the front wall of the vagina identified as the Grafenberg spot, or otherwise known as the G-spot is actually a bundle of nerves, gland or series of glands from the clitoris which extend into the wall of the vagina. Therefore, the vaginal orgasm can also be achieved when combined with stimulation of the clitoris, invariably still making the clitoris the central or focal point of the female orgasm. Are you still wondering why many circumcised women may find it difficult to enjoy se'x or indeed, may never experience an orgasm?
The importance of the clitoris to female orgasm or se'xual satisfaction is very crucial. The clitoris may be described as the most important part of the female sexual pleasure. It is to the woman, what the pe'nis is to the man. The clitoris or clit is a small bud-like formation located slightly above the opening to the vagina and at the top of the inner labia. Though its size and shape differs from woman to woman, it is generally believed to be between 1/8 to 3/8 of an inch in size. The clitoris is highly sensitive and full of nerve endings which become engorged when a woman is aroused.
Though many of the clitoral nerve endings are subterranean, or below the surface, the visible part is just the tip of the iceberg as, even "in hiding," the 6,000 to 8,000 sensory nerve endings are a mega source of incredible pleasure for many women. This is in contrast to the vaginal walls which contains relatively few nerve endings and only the lower third of it has enough nerve endings to feel stimulation from a penis, finger, se'x toy, or other penetrative object. It is therefore logical that intense se'xual stimulation, pleasure and orgasm from vaginal-only penetration are pretty much unlikely to happen.This is why a vast majority of women will need clitoral stimulation to enjoy se'x or achieve orgasm since vagina penetration on its own is not always enough. So guys, sweating and tiring yourselves out by humping and thrusting endlessly at your partner does not mean you are giving her the most pleasurable experience of a lifetime. You need to get more creative, versatile and patient with us. And even more so, if you discover that your partner is missing that vital part of her se'x organ, then don't be fooled by those moans, name callings and "ohmigods", they probably are just ways to hurry you up to get it over with. Believe me, most women are experts in this instance!
One question women who are confused about how they feel while having se'x often ask is, how they will know if they have achieved orgasm. According to se'x researchers, William H. Masters and Virginia E. Johnson in their seminal work titled Human Sexuality, orgasms are a combination of two things, a build up of muscle tension and the release of same. When a woman gets incredibly turned on, she builds up muscle tension around her pelvis and her clitoris and vagina becomes engorged with blood just like the male penis does.
At the same time, the vagina wall also starts to secrete beads of lubrication which eventually gets bigger and flow together. During an orgasm, all these tension technically known as Myotonia is released and a flood of hormones flows into the body causing intensely pleasurable feelings. Though centred around the genitals, pleasure can be felt all over the body depending on the individual.
Her heart rate, blood pressure and breathing increases, muscles contract throughout her body, especially in the vagina, uterus, rectum, and pelvic floor. Upon orgasm, all the tension is released and a pleasurable, relaxed feeling takes over. This is probably why most men will fall asleep after se'x. And the women? If you have felt anything close to this, then you are damn lucky! And if otherwise, don't be sad, as I said earlier, it is achievable, you only need to work harder at it. Yes, work harder!
There is no doubt that the female clitoris will forever remain the centre of her sexual gravity and it is important that this as well as other features of her se'xual organ, often disposed of during female circumcision must be preserved in order for her to live a pleasurable and fulfilled life. However, difficulty or inability to enjoy a fulfilling se'xually pleasurable life is perhaps the least of the problems associated with female genital mutilation.
Besides the immediate consequences which include pain, bleeding, infection, injury to genital tissues, shock and even death, it results in a silent ongoing torture throughout the life of the women. Depending on the extent of the cut, complications during childbirth, urinary infections, genital sores and cysts are also challenges she might be subjected to. Is there any reason why anyone should live a life of pain and sorrow based on the ill judgement of others? Is there any reason why anyone should live a life of pain and inadequacy because of the ill judgement of others, shrouded under the guise of culture and tradition?
The excuse that circumcised women are more chaste than uncircumcised ones, if true at all, is not enough reason to mutilate any girl. Se'xual discipline is as much psychological as it is physical. It is everybody's duty to help the girl child achieve her full potential as a woman and live a total life. So, dear daddy, please don't. Do have a wonderful weekend!
Comments
comments