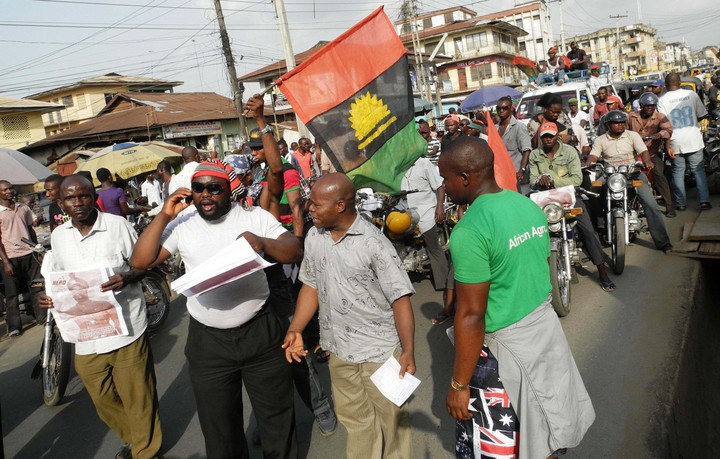 Members of Movement for the Actualisation of the Sovereign State of Biafra, (MASSOB) in Onitsha, Anambra State have said that the clampdown on its members by security agents would not silence the movement until the Biafra state is actualised.
Mocha said: "Buhari cannot stop us from actualisation of a sovereign state of Biafra even if he sends the entire security operatives in the country to the South East and South South geo-political zones. Infact, it is an act of cowardice to do that, because we are a non-violent organisation fighting to actualise a Biafra Republic."MASSOB Deputy Director of Information, Mazi Chris Mocha, stated this yesterday in Onitsha while speaking with journalists.
He alleged that policemen, soldiers and other security operatives barricaded the road leading to Dim Chukwuemeka Odumegwu Ojukwu Memorial Library in Owerri, Imo State with Armoured Personnel Carrier (APC) in a bid to stop MASSOB activities.
"Those who wanted to pass to and from the area were thoroughly searched while our members who were coming to attend a meeting were prevented from entering the library venue," he disclosed.
"Our leader, Chief Ralph Uwazuruike, who wanted to preside over the executive meeting had to put it off, citing security reason and to avoid casualty on the side of MASSOB."
He insisted that Buhari cannot stop them from existing, stressing," if OBJ as president, who hated Ndigbo and what we stood for could not stop MASSOB for eight years, is it Buhari that will stop us."
Also, in a remark, Nnewi South Regional administrator, Mr. Tony Nwodo noted that, "Uwazuruike had urged the United States to rescue the Igbo nation from the Federal Government's marginalisation and we look up to America for our emancipation."
We are fighting for a sovereign state of Biafra, which we marked its 16th year anniversary few days ago, saying that "struggle would be, forward ever and backward never."
Comments
comments