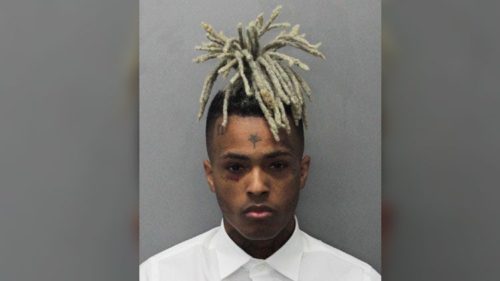 Controversial Soundcloud rapper XXXTentacion (real name Jahseh Dwayne Onfroy) was pronounced dead on June 18 after he was shot in Miami. TMZ reports that the 20-year-old was motorcycle shopping when someone ran up to his car and shot him. An eyewitness told the outlet that the rapper looked lifeless after the violent attack, and he apparently had no pulse. The Broward Co. Fire Dept. said that he was rushed to a hospital following the incident and was a Level 1 trauma patient, but there was nothing they could do to save him. Watch the video below to see the scary aftermath.
The murder appears to be part of a robbery, as two men wearing masks allegedly approached the car, shot XXX, took a Louis Vuitton bag from his vehicle and drove off in a black Dodge Journey. It is unclear if this attack was random or related to any rap beefs. XXX has had his fair share of feuds in the past year. The rapper has started drama with Migos, Drake, Trippie Redd, and Rob Stone's gang. However, he has also found supporters in Ski Mask the Slump God and ASAP Rocky.
XXX has recently been celebrated as an up-and-coming artist in XL's Freshman Class of 2018, but his relatively young career had been marred by a lot of controversy. Until recently, XXX was on house arrest for assaulting his pregnant girlfriend, and a dozen other charges including witness tampering. The court just recently decided to let him leave the house to tour. However, it seems like he was trying to change his ways. Just an hour before the attack, he had posted an Instagram Story that said, "planning a charity even for this weekend in Florida!"
Despite the controversy, XXX still had many devoted fans who were hoping he would survive. "Please don't let this be true about XXXtentacion," wrote one supporter. "Sick to my stomach when I heard the news. Praying for you bro." "Y'all making fun of XXXtentacion's death are disgusting," said another."He was not perfect but he doesn't deserve this." Our thoughts are with XXX and his family at this time.
Comments
comments