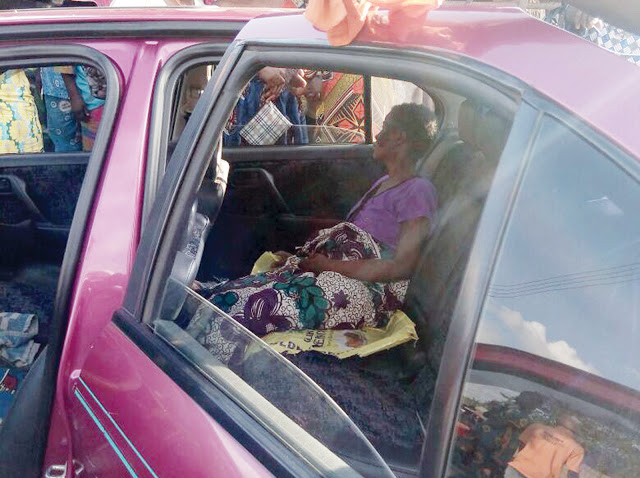 Residents of Olakula area of Idiroko in Ipokia Local Government Area of Ogun State were left shocked on
Wednesday as maggots dropped continuously from the private parts of a woman identified as Iya Toheeb.
The scene turned chaotic as residents trooped out to see the woman sat in a car with the assistance of family members and sympathisers.It was thought that she might have been a victim of money-making ritual after her condition allegedly defied orthodox medication.
The Nation learnt that the woman was also brought to one of the men she was associated with, a carpenter in the community. Of the reason for bringing the afflicted woman to the man, a source at the scene who asked not to be named, said:
"The woman was brought to the carpenter who was her former husband. Her family members believed that the man may be responsible for her worsening condition that defied treatment in hospital where she was admitted for months."Doctors were said to have advised her relatives to seek alternative medicine to her ill-health because it had gone beyond the purview of orthodox medicine.''
Another source, who did not want her name in print, said:
"The woman had dated different men in the past and it is believed that she may have been used for money-making ritual going by what we heard from those who know her.
"She has no wound in her private part yet maggots keep dropping from her sexual organ and that sends a signal that there is more to her problem than meets the eye, particularly since doctors have asked her relatives to seek help from native doctors for solution to her problem."
It was learnt that the carpenter, whose real name could not be ascertained at press time, made remarks that suggested the woman was being punished for her promiscuity, after which the woman's family members decided to bring her to him for possible solution her predicament. The carpenter reportedly fled before the arrival of The Nation's correspondent.
At the scene, sympathisers helped spread a sack on the car seat on which the woman sat when the maggots continued to drop even as a stench emanating from her body fouled the air. "This is what my beauty has done to me o," said the woman shortly before being taken away by her family members.
Comments
comments