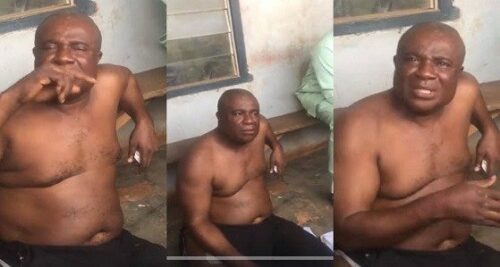 A Nigerian Pastor in Edo state has been caught red handed in an hotel room with one of his church members.
Scenes from the incident which happened at a popular hotel in Benin city, Edo state has now gone viral on the internet.
While being interrogated in the video shared online, the pastor denied sleeping with the woman but when he was asked to explain what he was doing naked in the hotel room, he couldn't offer any further explanations.
According to sources the notorious pastor is in the habit of tricking his God fearing female church members both young and old into giving him sexual favours.
According to one of his former church members who pleaded anonymity the pastor sometimes has canal knowledge of these vulnerable miracle seeking church members in the pretense that it is all part of a Deliverance section.
Nigerians should be very wary of wolfs in sheep clothings parading themselves all over the country as pastors and men of God.
Click Here to Watch video and Dont forget to like and follow us on Facebook
Comments
comments