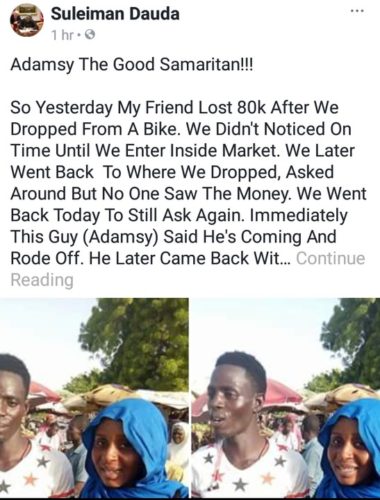 A Nigerian man identified as Adamsy has done the unthinkable, especially in this time when most Nigerians are faced with serious hardship. He returned a lost cash of about N80,000 and he has been a hero in his community.
Nigerian man returns N80,000 cash a lady lost in Katsina lailasnews 4
The cash according to one Mr Dauda, belongs to a lady who mistakenly dropped it while on the bike. Adamsy saw the cash and kept it. He saw the lady and her friend the next day while they were back on the spot to look for cash and gave it to them.
Dauda Wrote:
'Adamsy The Good Samaritan!
"So Yesterday My Friend Lost 80k After We Dropped From A Bike. We Didn't Noticed On Time Until We Enter Inside Market. We Later Went Back To Where We Dropped, Asked Around But No One Saw The Money.
We Went Back Today To Still Ask Again. Immediately This Guy (Adamsy) Said He's Coming And Rode Off. He Later Came Back With Money In His Hand And Ask Us The Denominations. We Told Him And He Handed The Money Over To Us Exactly How It Was.
He Then Said "Mallama(Miss), I Am Not Above This Money And I Don't Have Such Amount But This Is Not My Sweat And I Can't Keep It" Tears Dropped From My Eyes.
People Like Adamsy Are Very Rare Wallahi. May God Bless Him Abundantly"
Comments
comments