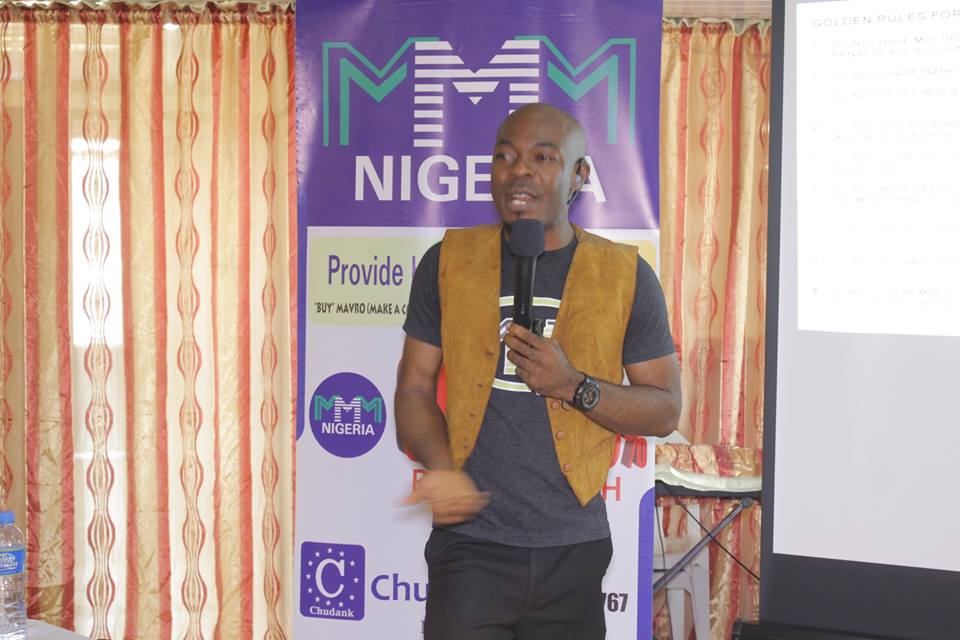 Nigerians were thrown into confusion yesterday, Tuesday, December 13, 2016, after MMM Nigeria announced it was freezing its operations for the month of December.
With this state of uncertainty, there are new claims that a Nigerian is the mastermind of MMM Nigeria.
His name is Chuddy Anayo and he is popularly referred to as "The MMM number one Guider" – He seems to have Guided the Moniesof many Nigerians Into A very big Pit, Thats Word to Somto Monanu
If you visit the MMM Testimonial page you will agree with me that Oga chuddy haf finish all una money… According to sources this Chuddy is the head Admin of MMM he is the one who brought mmm into nigeria he is the one who runs things at MMM just the way Mark Zuckerberg runs Facebook, People fail to realise that a Website cannot create itself a human being has to see through its day to day activities and chuddy is the one behind mmm and the same chuddy is also a participant of this same MMM and this same chuddy is also the number one Guider on this same MMM dont you already see that there is already A Red flag… well below is screen shot of money he has been collecting and displaying publicly only god knows the one he took in Private… he even collected some money a whopping N6M on the 8th of december chai oga chuddy will paint his village red this december







Well Just Last week, Pastor Ernest Mbanefo who is based in South Africa denied claims that he was the individual behind MMM Nigeria.
Now, a Twitter user Amadi Noel (@KingNoelC) claims that a Nigerian by the name Chuddy Anayo Ugorji is the man who is responsible for the entrance of MMM into Nigeria.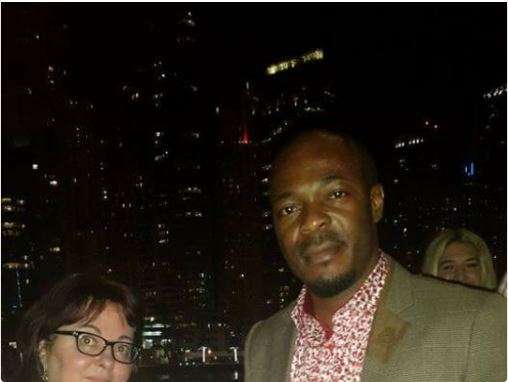 In his long Twitter thread made today, Amadi Noel stated that Chuddy Anayo Ugorji allegedly brought MMM into Nigeria in 2015.
He also claimed that he struck a deal with some Phillipinos to create "MMM Nigeria names".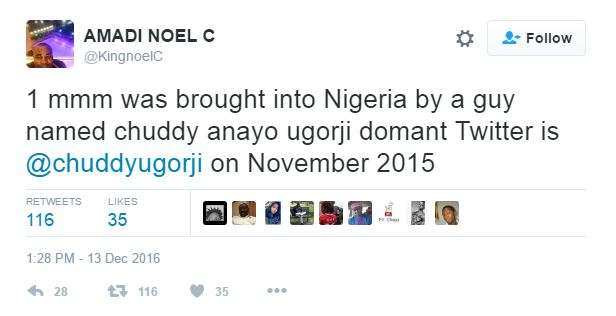 Amongst other things, Noel said Chuddy was a former member of MMM Global and has made over N5bn since the start of the Ponzi scheme in Nigeria.
According to the thread, the Ponzi scheme was done by Chuddy in collaboration with some white people in Dubai.
Chuddy tweeted the phone number of Chuddy Anayo Ugorji, his wife and other Nigerians he identified as the "cartel."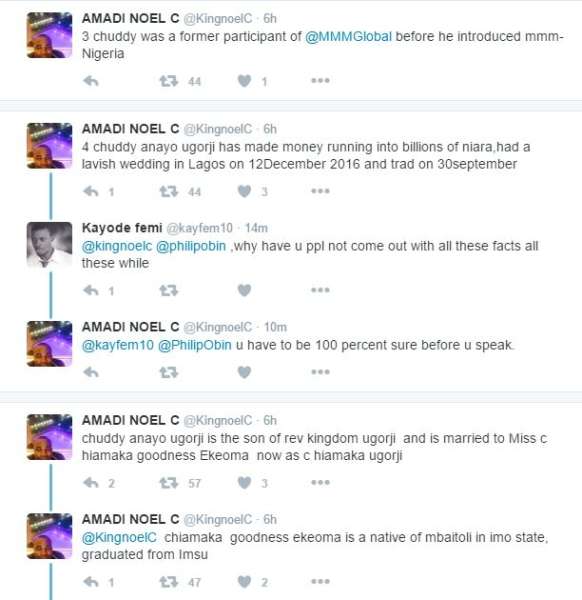 Chuddy Anayo Ugorji was not available when Pulse contacted him but we were able to contact with his wife via phone.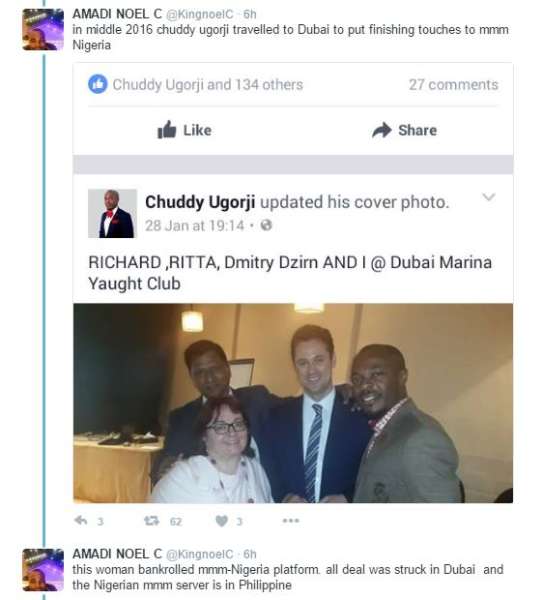 Mrs Ugorji said that Russian and MMM Global founder Sergey Panteleevich Mavrodi was behind MMM in Nigeria. When Pulse asked to state if her husband is truly the brains behind the Ponzi scheme in Nigeria, she refused to answer and said we should keep calling her husband. "It's best you hear from the horse's mouth" she told Pulse exclusively today.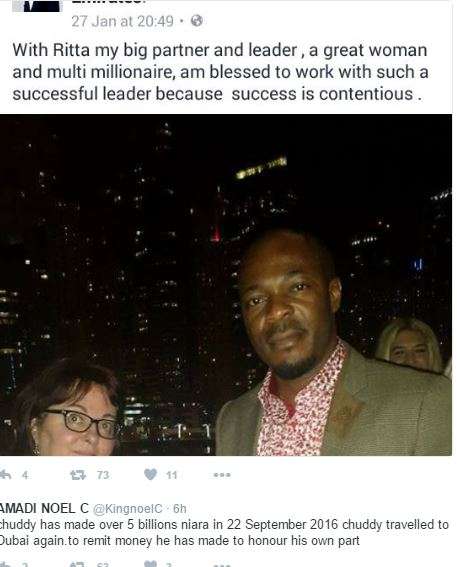 A quick look at Chuddy Ugorji's Twitter account shows strong indications that he has some stake in MMM Nigeria even though his last tweet was on September 7, 2016.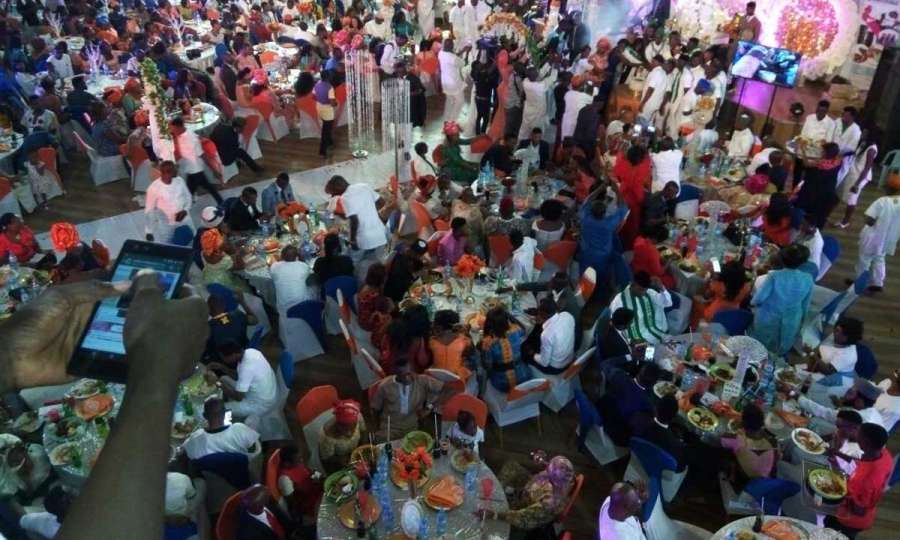 His YouTube channel features him making several presentations about MMM in several gatherings. The first video on the channel 'Ideology of MMM' was published on October 29, 2015.
Comments
comments