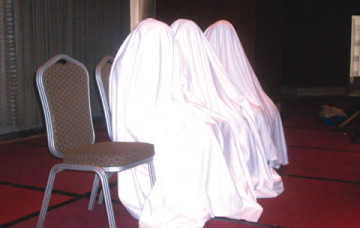 More chilling revelations have emerged to shed some light on the agonising experience of the missing Chibok girls, based on the
account of one of the escapees.
And according to a new report on Punch, a clergy and expert on counter-terrorism, Oladimeji Thompson, of The Omoluabi Network, who has been working with other groups to assist victims of the abduction overcome their pains, has given a chilling narration based on an account of one of the escapees.
Oladimeji told Punch:
"One of the girls I interviewed was being rap.ed 15 times by 15 men every day. It's obvious this girl needs to be managed. She looked confused. She found it hard to talk to me but after much prodding, she confessed to me that she was r.aped 15 times by 15 men throughout the time she was with the Islamic insurgents before she could escape from
their den.
A girl who has been ra.ped by 15 men every day, you say you negotiate and gave her back and release a terrorist who will go out and kill more. What negotiators do is to say that they must not tell their stories, they blanket all the information. In a situation like this, it is the Boko Haram that wins more."
Asked if the girl was not pregnant after her ordeal in the hands of the insurgents, the pastor, probably in an attempt to protect the schoolgirl, declined further comments asking the Punch correspondent to move to other issues. Many of the mothers also confirmed to Punch that against all trumped up figures in the media, only three girls have since managed to escape from Boko Haram's den.
Comments
comments