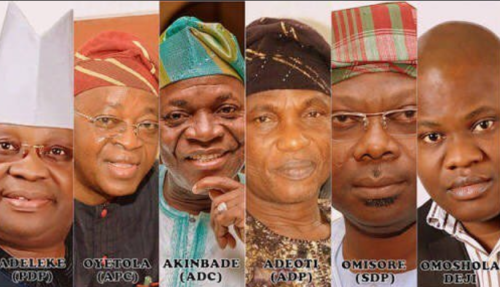 Xổ số miên bắc hôm nay mang lại sự tài lộc thịnh vượng cho người chơi ,với lượng giải thưởng đa dạng phong phú xoso mien bac hom nay có chơi là có thưởng mang lại niềm vui cho mọi gia đình
The Independent National Electoral Commission (INEC) has declared the Osun State governorship election inconclusive.
The reason for the cancellation, according to the electoral body, is because the number of cancelled votes is higher than the margin between the two top candidates – Ademola Adeleke of the Peoples Democratic Party and Gboyega Oyetola of the All Progressives Congress.
INEC declared the election inconclusive after announcing that the People's Democratic Party candidate, Ademola Adeleke, polled 254,698 while APC candidate scored 254,345 votes.
Details later…
A re-run will be declared for the Osun State governorship election due to the margin of victory between the two leading candidates, Premiumtimes is reporting.
.
.
The election, one of the closest in Nigeria's electoral history, was held on Saturday to elect a new governor for the state.
.
.
At the end of collation of results, Ademola Adeleke of the PDP won majority votes of about 254,698 while Gboyega Oyetola of the APC came a close second with 254,345 votes.
.
.
According to electoral rules, a re-run election can be so declared if the margin of victory in an election is lower than cancelled votes, such as in Osun where thousands of votes were cancelled in various local governments while the vote difference between the leading candidates was less than a thousand.
.
.
The difference between the two leading parties was just 353 votes but the number of cancelled votes was 35,498
.
.
In that case, rerun will be held in only affected areas where elections were cancelled. Premiumtimes reports that Thursday is being considered for the rerun, has INEC has now declared the election inconclusive.
Comments
comments