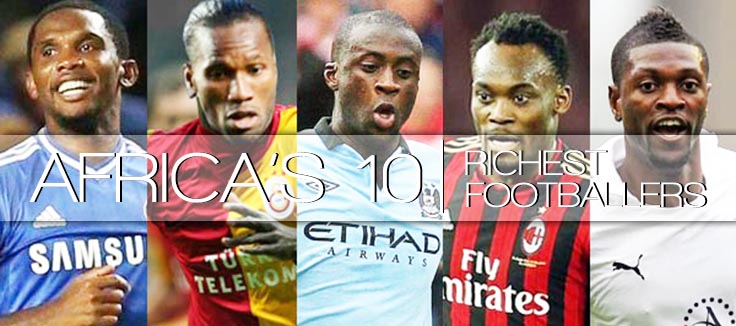 Since the 1990's, African countries and footballers have featured far more at world football's top table. Although no African team is
yet to reach further than the quarter finals at the World Cup, their individual footballers have been recognised for their talents.
In 1995 George Weah became the only African player to ever win FIFA World Player of the Year, while other players such as Roger Milla and Jay-Jay Okocha dazzled at some of Europe's elite clubs. The aforementioned players paved the way for today's African footballers to make their mark on world football and for some to be considered amongst the greatest of their generation.
Such talent has invariably seen them be well rewarded financially and many of Africa's modern day greatest feature on this list of Africa's richest current footballers.
Bellow is Football Money List of Top 10 Africa's Richest Players:
10) Christopher Samba – $8 Million
The Congolese defender's wealth owes greatly to the contract he signed at Anzhi Makhachkala where he was paid $160,000 per week. Before then he made his name as the no nonsense captain of Blackburn Rovers. Between two spells at Anzhi he spent six months at Queens Park Rangers, where he again earned around $160,000 a week. He is currently at Dynamo Moscow after being sold in a fire sale of players by Anzhi.
9) Seydou Keita – $10 Million
The Malian midfielder has recently returned to Spain with Valencia after a year in the Chinese Super League. Keita earned a reported $16million before tax in his year with Chinese Super League club Dalian Aerbin FC. Before that move he had been an important member of the Barcelona squad for four years having impressed at Sevilla and in the French Ligue 1.
8) Frédéric Kanouté – $12 Million
The legendary Malian striker began his career in France with Lyon before moving to England with West Ham in 2001. During his spell at Sevilla he won African Player of the Year in 2007 as well as consecutive UEFA Cups. He is currently at Beijing Guoan in the Chinese Super League. In 2007 he spent a reported $700,000 buying his local mosque in Seville.
7) John Obi Mikel – $13 Million
After just 6 appearances for Norwegian club Lyn Oslo, Mikel became infamous within the football world. In 2005 both Manchester United and Chelsea announced the signing of 18 year-old Mikel in what would become a protracted transfer saga. It was eventually settled in 2006 with Chelsea paying Lyn Oslo just £4million, whilst Manchester United received £12million without the player ever having played for them. The Nigerian has achieved great success at Chelsea winning the Premier League and Champions League amongst others, and reportedly earns $5million a year.
6) Kolo Toure – $15 Million
Toure has played for three of England's biggest clubs in the form of Arsenal, Manchester City and Liverpool. He also has a lucrative sponsorship deal with Adidas. He has become an integral player for the Côte d'Ivoire national team and is one half of football's highest paid siblings.
5) Emmanuel Adebayor – $20 Million
Togo's all-time top scorer has benefited from lucrative contracts at some of England's richest clubs. Whilst at Manchester City the striker earned a reported $268,000 a week. While Adebayor has developed a reputation for falling out with managers, the player is also known for his enormous charity work. He has set up projects in his native Togo and across Africa, as well as founding the SEA Foundation which implements welfare projects across the continent.
4) Michael Essien – $22 Million
Essien was once Africa's most expensive footballer of all-time after his £24.4million move from Lyon to Chelsea. He has received multiple nominations for World Player of the Year as well as African Player of the Year in recognition of his status as one of Africa's best players ever. After 8 years at Chelsea, Essien signed for AC Milan in January 2014 to receive more first-team football.
3) Yaya Toure – $25 Million
Toure has received African Player of the Year three consecutive times since 2011 and is recognised as one of the Côte d'Ivoire's 'Golden Generation'. He was an important player in the Barcelona team that won the Champions League in 2009 and is currently the engine room of Manchester City's team. He earns a reported $15million a year to reinforce his status as one of the world's best.
2) Didier Drogba – $33 Million
Didier Drogba's enormous fortune is impressive, considering the Ivorian didn't earn a big move until his 2004 transfer to Chelsea at the age of 26. Since then however the Chelsea legend has signed a number of lucrative contracts. At the height of his powers at Chelsea he was paid $170,000 a week, a figure dwarfed however by the staggering $325,000 he earned in his short spell at Shanghai Shenhua. He currently earns $5.2million a year at Galatasaray, however with a number of lucrative sponsorship deals his actual earnings a year are far more.
1) Samuel Eto'o – $65 Million
It's no surprise that the man to have won a record four African Player of the Year trophies tops the list for the continent's richest player. Eto'o was in fact once the highest paid player in the world during his spell with Anzhi Makhachkala bringing in $25millon a year. The Cameroonian striker has played for some of Europe's biggest clubs including Real Madrid, Barcelona, Inter Milan and current club Chelsea. His goal-scoring prowess has seen him not only rewarded with mega wages but huge sponsorship deals, however the player also gives a lot of money to charity, much like Didier Drogba, and has set up the Samuel Eto'o Foundation in his home country.
Comments
comments