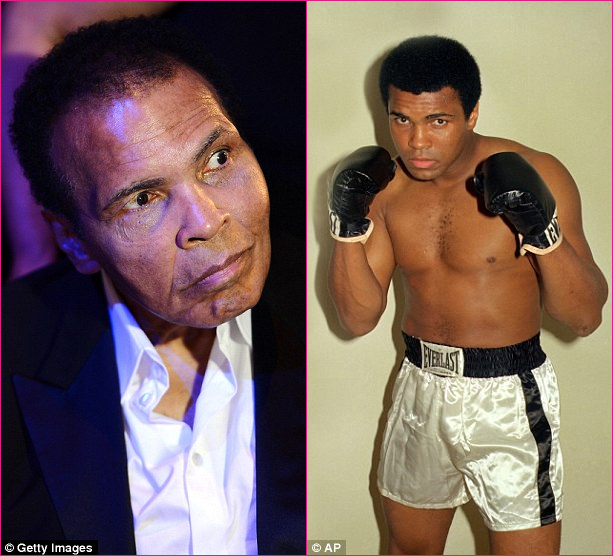 The legendary boxer – widely regarded as the best of all time – died with his family at his side on Friday evening, a
day after he was rushed to hospital with difficulty breathing.
'After a 32-year battle with Parkinson's disease, Muhammad Ali has passed away at the age of 74. The three-time World Heavyweight Champion boxer died this evening,' Ali's spokesman said.
Ali's family said his funeral would be held in his hometown of Louisville, Kentucky, and thanked the public for their outpouring of support.
Ali had been on life support at a hospital outside Phoenix, Arizona, after he was found 'barely breathing' at his home on Thursday.
He was taken to hospital with an 'unshakeable cough', a separate source said, with his fatal respiratory problems likely to have been complicated by his Parkinson's disease.
The Greatest was surrounded by his family, who rushed to be at his bedside on Friday after doctors warned his condition was 'rapidly deteriorating', a source said.
It was earlier reported that Ali's family had started making funeral arrangements after doctors warned that he was just hours from death.
Ali's spokesman Bob Gunnell told MSNBC that the family were 'devastated'.
'Muhammad passed with his family at his side just moments ago,' he said.
'It was a very peaceful passing and they are with him as we speak. You know, we lost a great person in this world tonight.
'We don't have an official cause of death yet, but it has to be from complications of Parkinson's.'
Gunnell said on Thursday that the boxer was being treated for a respiratory issue at a hospital, which he confirmed again on Friday morning.
Comments
comments