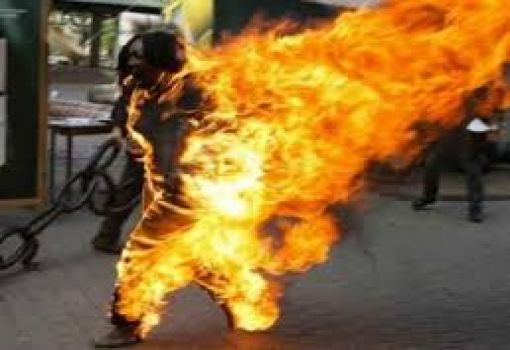 A middle-aged woman, Mrs. Monica Nwakpuke, barely escaped the cold hands of death when her husband, Paul, allegedly
hired assassins to set her ablaze for giving birth to female children only.
The culprit, Paul, a patent medicine dealer, who hails from Onuojgon Ikwo Local Government Area of Ebonyi State, was alleged to have hired assassins to kill his wife because she could not give him a male child.
The assassins were said to have trailed the woman to her father's house where she was taking refuge over the lingering case of the male child issue with the purported aim of eliminating her.
The attackers allegedly doused her with fuel, then set her on fire and left before she was taken to the hospital where she is battling for survival.
The victim's younger brother, Mr. Sunday Nwigbo, said for the past 12 years when Paul impregnated Monica when she was a student of Enyi Community Secondary School in Ikwo, there had been no genuine love between the husband and wife.
Nwigbo disclosed that Paul became furious with his wife because she only gave birth to female children without a male child.
A close family source added that since Paul impregnated his wife at a tender age before marriage, he had on several occasions sent her back to her parents before he allegedly hired the attackers to kill her.
"Three men laid ambush for Monica in the night waiting for her when she came out to use the toilet and when she eventually came out that night, the attackers rushed and grabbed her while one of them slapped her repeatedly on her face before forcing her onto a standby motorcycle and sped off," a the source narrated.
Another source said that Monica was brought down from the motorcycle, stripped Unclad and blindfolded after which they poured fuel on her and set her ablaze.
"When they discovered that she had been severely burnt to the extent that she may not survive it, they abandoned her and ran from the scene," the source said.
The victim is currently receiving treatment at the Federal Teaching Hospital, Abakaliki.
Though all efforts to get the reaction of the culprit proved abortive, the state Police Public Relations Officer, ASP Chris Anyanwu, said he had not heard about the assault on the woman but promised: "I will get back to you when I confirm it."
Comments
comments