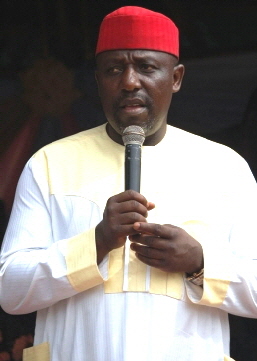 (1) Where are all the huge funds allocated monthly to the 27 local Government areas in Imo State, and received for disbursement by Imo
State Government since May 2011 till Date that is well above N180 Billion? What has been done with these funds?
(2a) Which of the roads, started and completed by this administration in any of the 27 Local Government Areas or Hospital, Schools, bore holes for water or any rural electrifications etc in any autonomous community in Imo State in over three years of the life of this administration? Not those built by unsuspecting contractors/individuals with their hard earned money that is now begging for regularization and payment.
(2b) What project has been completed and commissioned?
(3) Where is the N26.8 billion handed over to Owelle by Ohakim?
(4) Where is the N13.3 billion bond proceeds for Oguta wonder lake?
(5) What is the stage of work at the Oguta blue lake of treasure as renamed? Now covered by grass.
(6) What has happened to the Marine Police approved as a result of the wonder lake?
(7) Who bought or leased Adalpam Nigeria Ltd?
(8) Where are IROMA trucks and equipments? Valued at N12.5 Billion.
(9) Where is the surpossed 3.5 billion proceeds from the sale/lease of Adalpam?
(10) Who owns ROCHE?
(11) Who owns ITC?
(12) How much was paid for the lease of ITC?
(13) And where is the money for the lease?
(14) Who are the real owners of LAM TECH, the firm that leased our General Hospitals & Health Centres?
(15a) For how much? and to whom?
(15b) Are there no Medical Doctors from Imo State or South East?
(16a) What is the rationale behind selling the existing General Hospitals to start new ones? After the Owelle Govt told us that Govt. has no business running Hospitals
(16b) Why do Owelle claim that he has built 27 General Hospitals when all the project are below 30% completion.
(16c) Is Hospital a mere building yet to be completed? Or completed and equipped building?
ISOPADEC:
(17a) What has happened to over N30 billion, 13% (derivation) allocated to Imo State oil producing Areas Dev. Commission since May 2011 to date?
(17b) What are the jobs awarded or going on in the two oil producing L.G.As. (Ohaji/Egbema & Oguta)?
(18a) Who owns ABN Global that leased Concorde Hotel?
(18b) Why shut down Concorde Hotel? Creating 2000 unemployment
(18c) What is the fate of Imolites working there?
(18d) Where is the $2.5 M dollars paid for the lease of Imo Concorde Hotel?
(19) What is the fate of our brothers who paid N500,000.00 to procure Owerri city gates contracts. Nearly three (3) years why are the gates abandoned?
(20) In what positive manner has Governor Owelle Okorocha impacted directly or indirectly on the lives of the people of Imo State? Are we developing or retrogressing? Has life become more unbearable for the average Imo man through his anti-people, anti-masses policies and programmes?
I. Astronomical increase in personal income taxes when there are no jobs and the policies of government are unfriendly to private sector economic activities and hostile to the self-employed.
ii. Astronomical increase in the state owned tertiary institution.
iii. The destruction of people's Houses and business premises without due compensation.
iv. The multiple charges for re-certification of Certificates of Occupancy, and grossly inflated land charges.
v. Charges on personal bore-holes.
(21) Forceful acquisition of Government & individual properties.
(22) What has become of USBEB, MDG, etc. gone moribund.
(23) Is the government so myopic, insensitive to public query that only person fit for sensitive contracts, appointments are the Nwosus (Okorocha's in-laws) and another Nwosu has joined through the acquisition of Owelle Rochas Okorocha's daughter.
(24) What is the rational in Sacking 10,000 Imo Youth duly employed by Ohakim's administration according to their grades to now claim to employ 25,000 casual workers by the Rescue Mission government without due process and all to receive N20,000 per month?
(25) If the N13.3 billion bond proceeds was used for free education, school buildings and Hospitals as claimed by the Hon. Commissioner for finance Mr Chike Okafor, in his broadcast of Sunday, 27th January 2013 on Orient F.M Owerri, will the credit not go to Ohakim?
(a) What happened to the N3.5 billion from the lease of Adapalm that we were told was for the same purpose?
(b) What happened to the proceeds of the lease of our General Hospital?
(c) What happened to the N400 million flood money?
(d) What happened to N45 million loan secured from Zenith Bank with the allocation of local government as collateral?
(e) What of the N200,000,000.00 (Two Hundred Million) each given to the T.C chairmen from the said N45 Billion loan for the purposes of construction of hospitals in the 27 L.G.A.'s?
(26) Who nominated the contractors handling the projects?
(27) How much has been paid so far? And what is the stage of work?
(28) Why scrap development centres, thereby removing food from the tables of many families?
(29a) Where is Josph Dino of Jpros Limited and Imo tax payers N1.3 billion naira?
(29b) Where is Joss Marinlopez-pepe and Imo tax payers N3.5 billion?
(30) Why is Owerri so dirty?
(31) ORO is it true that you gave a friend job, arranged him to us as beautiful and strategically locate edifice to borrow money from bank? Not only that you did not pay him, that you bought his house from the bank , when the bank advertised the property for sale on the account of non-performance of the loan, for his been unable to pay back the loan?
ORO, was it not the same way you cunningly acquired your friend's Hotel LAMONDE? Lamonde (Abuja) was originally built and owned by a family friend, Chief L. Lar, younger brother to late Chief Solomon Lar. You plunged him into financial crises and later bought his Hotel-Lamonde through the bank. Owelle Rochas Okorocha, Habaa!
(32) Why did the Governor sack the acting V.C. of IMSU, Prof. B.E.B Nwoke? May be he refused to be part of the sham called free education.
(33) Owelle Rochas Okorocha who and who were your course mates? What course did you study? And what year did you graduate? And from which University?
Comments
comments