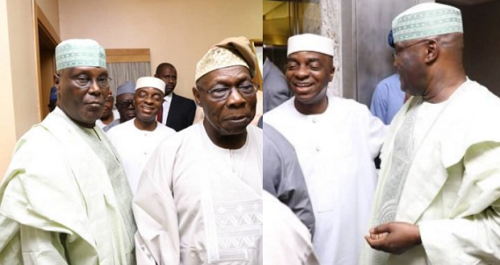 The General Overseer of the Living Faith Church, Bishop David Oyedepo, has arrived the residence of former president, Olusegun Obasanjo, in Abeokuta, the Ogun state capital.
Oyedepo's visit comes while Obasanjo is in a meeting with his former Vice, Atiku Abubakar.
But it is not certain if both visits are connected.
According to our sources the meeting is being held at the residence of the ex-president within the Olusegun Obasanjo Presidential Library (OOPL), Abeokuta.
Atiku arrived his former boss' premises at about 1:05pm.
The former VP was accompanied by his campaign Director-General and former Ogun State Governor, Otunba Gbenga Daniel, PDP National Chairman, Prince Uche Secondus, and Senator Murray Ben-Bruce, among others.
Pastor describes Buhari's government as a failure
The founder and General Overseer of the Living Faith Church, Bishop David Oyedepo has described President Buhari's government as a failure.
The outspoken clergy man also chided the Federal Government for doing nothing about to solve the issue of the herdsmen killings, Daily Post reports.
Oyedepo said this during the service on, Sunday, April 22, 2018.
He said, "Can I tell you my anger against this government? No feeling for human lives. You can't be destroying the work of my father and I will be happy with you. You know what God said? I am angry with the wicked everyday.
"Talk is cheap! You see where change brought us today since 2015? The changest change!
"1 naira will be one dollar. Fuel will be sold at 45 naira. Any responsible government will bring power in 3 months.
"If you bring the scoresheet out, it's 0%. Do you want change? Work it out ! You better wake up so you don't suffer the Nigerian kind of change. Theoretical change.
"3 refineries working! (They must be) located in space. Defending killers! God's judgement will hit!
"If you are happy with what God is angry with, you are ungodly.
"Those who have made others childless, wifeless, husbandless, so shall they become! Do you pray for Armed Robbers? Evil shall not prevail in Nigeria!"
President Buhari recently angered Nigerians when he described Nigerian youths as lazy.
The President made the statement at the Commonwealth Business Forum in Westminster on Wednesday, April 18, 2018.
Comments
comments