Nollywood actor, Jibola Dabo speaks about his gay role with the late Muna Obiekwe, his relationship with actress, Ayo Mogaji, and having children with different women.
Enjoy excerpts from his interview with Punch below: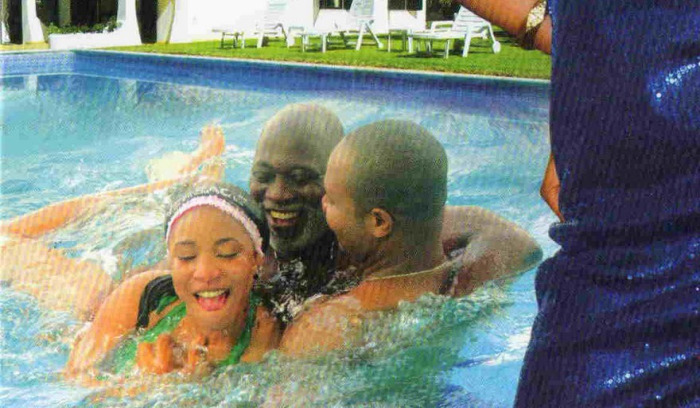 Which movie would you say has been your most challenging?
I hate to advertise for any movie and I believe every movie I have been a part of has been challenging in several ways. However, the movie that I had to put extra effort is also the movie I hate the most,'Dirty Secrets.' I played a role that is totally different from who I am in reality. I hate the character I played and for me to do it well, I had to become the character. I had to hate myself while doing so. It was bad. After the movie, I had to keep telling myself that the character I portrayed was not who I am.
Have you watched the movie?
I don't want to see it. I have been asked if I could play such a role again and I told them 'yes' but only if I have access to the post-production stage. There are some things that should have been edited in the movie that were not removed. There are some things an actor would do to make his acting real that should be edited but they released the movie like that. It was so raw and it was terrible for them to put everything out there.
You acted alongside the late Muna Obiekwe in the movie you're talking about…
I felt sad about it. But the young man had been sad for a while because he had been careless about his health. He drank too much alcohol and he didn't remember that he had a liver. He was also a chain smoker, but of course, there are also people that do it and live longer. I was saddened that we had lost another star because he was a great actor.
How come you openly support polygamy; is it because your father was one?
No. It is because I am not a hypocrite. A lot of Nigerians are hypocrites, especially the educated ones. When you have a wife and several concubines, it is worse than being a polygamist. When polygamy was accepted in our society, we did not have as many diseases as we do have because you would bring the wife home. What I said was that I do not have anything against polygamy; however, do not confuse fornication and adultery with polygamy.
Why are you not a polygamist then?People actually think I am a polygamist. I am not one because I love deeply. When I fall in love, I like to show off my woman. People think I am a polygamist because I have children from different women.
How come you have children from different women?Growing up, I was notorious with ladies and they were notorious with me as well. During that time, girls had this perception that they could tie you down if they got pregnant for you. It happened to me with different girls because I was very popular and good looking. The girls kept coming to me. Also, there was the lack of knowledge of protection. When I grew up, I met kids that I fathered and did not know because their mothers did not tell me that they were pregnant.
Which means that some women came to you only with the interest of having a child?Yes, it is very true. People misjudge me now because of that. If a girl went through what I faced as a child, the experience would be tagged as child abuse. I had older ladies come to me for sex as a young man. It was child abuse, but nobody was focusing on child abuse for boys back then. Instead, people prefer to judge me. I would not be talking about this now if I am not grown and have more understanding.
But you could have turned down their advances.I could not have turned them down, because my feeding depended on that 'aunty.' It happened when I stayed with relatives. Some of their female friends liked me and made me do things a young boy should not indulge in.
You dated popular actress, Ayo Mogaji, at some point in your life. What went wrong with the relationship?I would say that the media made a pool out of a tea cup. She was my girlfriend in the 80s and when I returned to Nigeria, she was still unmarried. I funded a movie for her and we started dating again. She got pregnant for me and that was it. The media began to say that her husband abroad had come back home. I never got married to her; neither did I go to her parents to ask for her hand in marriage. She was my girlfriend and she got pregnant and I could not ask her to abort the baby. I was old enough to have a child, so I had no objections. I love my son a lot and now she has her husband.
But why did you not get married to her?Our lifestyles were not the same.
Some believe you did not get married to her because it was reported that she normally got drunk at home.No, it is not true. She was like that even before I came back to Nigeria. I had known her for about three decades and she had always been like that. That is her style. I read in the papers after she left me where she said, 'I drink, get drunk and smoke, so what?' It was on the front page. So if I could not take that, I would let her go.
But as her lover, don't you think you could have helped change her lifestyle?I could not change her because I am not God, but I tried to convince her to stop.
Comments
comments