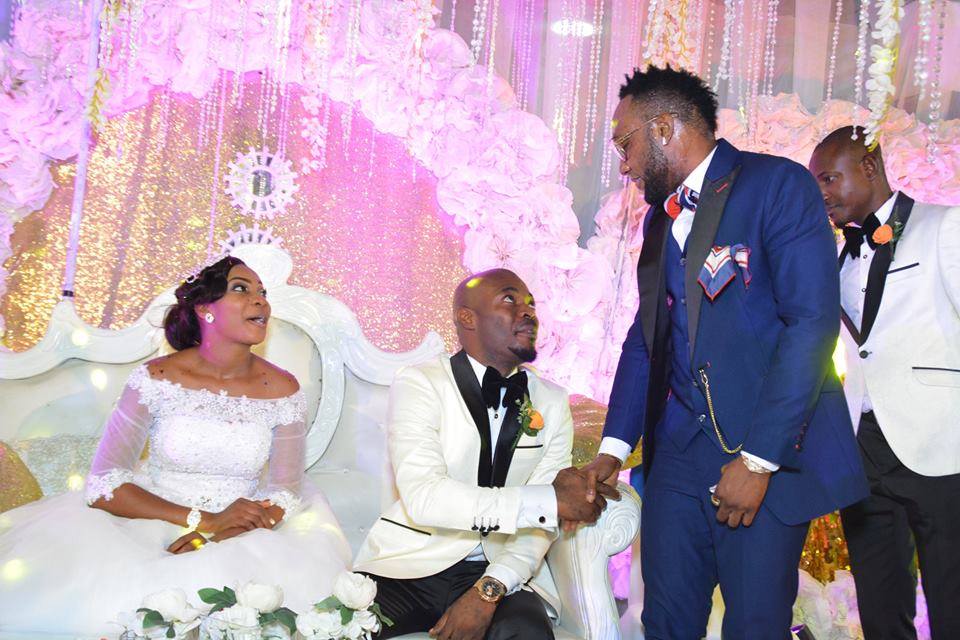 Chiamaka Chuddy Ugorji wedded her husband Chuddy Ugorji in a lavish wedding that buzzed all over social media on Saturday, November 12, 2016.
MMM Nigeria froze its users' accounts yesterday and she has reached out to participants in an open letter.
She wrote:
Fellow die hard participants
It is with calm and calculated mindset that I am writing to you, if I say I don't feel your worries, I lie. The pause in MAVRO was necessary having in mind that it's better to struggle in the morning and enjoy in the evening meaning it was necessary so we can still have a robust well structured MMM by JANUARY.
In times like this all we should do is restructure our budget plan and forge ahead in anticipation of a beautiful extraordinary January, goldsmiths strike the metal when very hot, it's time to see the opportunity that is inherent in this situation and tap into it.
Furthermore I implore you all to be your brothers keeper, your downlines are practically your family, help calm their frail nerves, give them the hope they seek and for those that were dependent on the proceeds that was to come this December to enjoy the season, invite them to share in whatever you have so we all exhibit the bond that MMM ideology preaches.
You are all important and I want you to calm and trust the system.
#istandwithMMM.
Why do people pray for MMM to crash? …
Around the world, mainly in Nigeria, MMM have helped thousands of people sustain a living.
Today, it entered a temporary #pause mode, and so many people and media will come out to make the masses panic the more.
Now let me ask..
* what do we do when people owing us tell us to give them one month to pay? WE WAIT!
* what do we do when our employer tell use he cant pay salary for 2 months due to accrued debts? WE WAIT!
* All the civil servants that the government have been owing for months, what do they do? THEY WAIT!
*what do ladies that are dating and the fiancee promised them next December, what do they do? THEY WAIT!
* all the campaign promised that are promised to us and is to be fulfilled, what are we doing? WE ARE WAITING!
* most of us spent millions to get a certificate in various schools, yet no job, what are we doing? WE ARE WAITING!
THE COUNTRY HAVE TRAINED US TO ALWAYS WAIT.
Most of us have made 5 × of what we started with in MMM so… WHY CANT WE BELIEVE IN THIS SYSTEM NOW.
WE WILL COWARDS TO START WRITING RUBBISH ABOUT MMM.
MMM HAVE HELPED MILLIONS.
IF THEY WANT TO SHUT DOWN, THEY WONT GIVE U ACCESS TO LOG IN TO THE SITE…
IF IT HAVE HELPED YOU BEFORE, DONT BE A COWARD, BELIEVE IN IT NOW, …..I PERCEIVE A JOYFUL JANUARY FOR ALL MMM PARTICIPANTS .
IF YOU HAVE SPARE MONEY, PH, YOU WONT BE MATCHED TILL JANUARY… AND YOUR MONEY WILL GROW IN YOUR POCKET.
#copied
na people when nor dey do MMM dey shout pass.
Chiamaka & Chuddy's wedding which took place at Elshadai Covenant Church, 7 social club road, Abulegba Lagos, witnessed large turnout of well-wishers and MMM guiders and participants.
Also, reports have it that, Chuddy is the man who brought MMM to Nigeria and he currently has lots of Participants registered under him.
Comments
comments