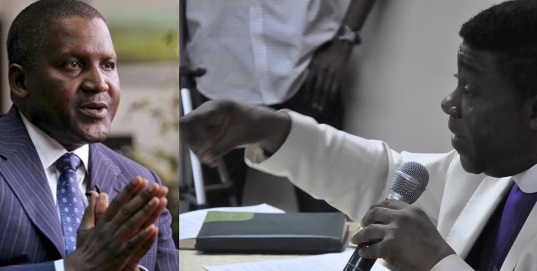 Former Secretary of the Christian Association of Nigeria,Archbishop George Amu, has said God has shown him that Nigerian billionaire businessman, Alhaji Aliko Dangote, will one day become the nation's President, reports Punchng.
Amu said just like the emergence of Donald Trump as the President of America shocked the world, so will Dangote's emergence as Nigeria's President shock everyone.
The cleric, who recalled telling journalists on August 21, on the occasion of his 75th birthday, that Trump would win America's election, said God had also revealed to him that Dangote would be Nigeria's President, but he was not sure whether he would succeed Pres. Buhari or not. .
According to him, the similarity between Trump and Dangote is that both are successful businessmen, rather than politicians, and God plans to use them to salvage their countries from problems. .
Amu recalled that when he predicted Trump's victory, no newspaper reported it, saying, "I even told my children to circulate the information on their facebook but they declined. .
The same God, who revealed Donald Trump's victory in the US, has also declared His intention to install Dangote as the future President of Nigeria." The cleric said God had chosen to entrust Trump and Dangote with power in their countries, because they were wealthy and would not steal their nations' wealth, adding that it was God's divine strategy to cripple corruption in governance.
Comments
comments