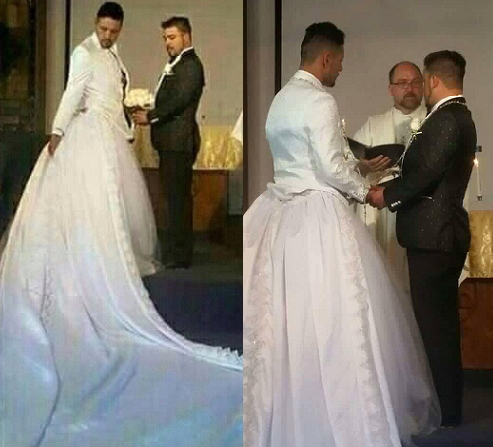 Gay Man Wears Wedding Dress As Priest Joins Him With Partner On Altar, He wore the cloth to look like wife but this really shown that the
world is already getting to another stage of human existence.
It would recalled that a popular nigerian annonymous blogger Bimbo Adetokunbo (not real name) revealed her experience at an exotic gay wedding in Lagos. She also shared the stories of her close shave with lesbianism, the pressure, threats and attractions with Gboyega Alaka and Omolewa Oshin.
"IT was an all-pink affair early March. All the girls were in pink bum shorts and rise and fall cropped top – that was the dress code. The atmosphere was surreal, with sensual lights, music, dance, rich perfume and sweat mingling. Wine and food was also in abundance; shawarma, asun, cake. Chicken barbecue… The celebration in the air was also unmistakable.
Read Also it here – My Experience At A Secrete Gay Wedding At A Night Club In Lagos
Comments
comments