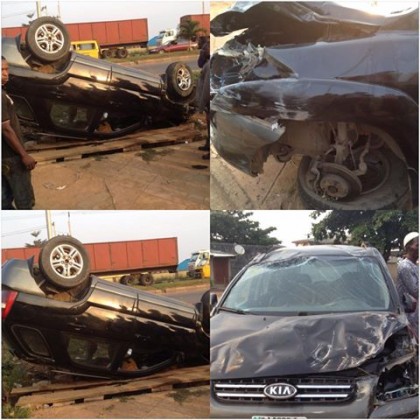 Former Super Falcons forward and two time African Women footballer of the year, Cynthia Uwak is counting her blessings after surviving a ghastly motor accident.
The Akwa Ibom-born striker who currently plies her trade in Finland took to her Instagram page to share the photo of the ugly accident showing a badly damaged SUV turned upside down and badly snatched in the course of the incident. The post was however silent on the exact spot where the incident took place.
The 30 year old Åland United of Finland forward followed the photo with a heart touching submission appreciating God on one hand and expressing pity for those who say that there is no God on the other.
"It is only a FOOL that says there is no God! Sometimes all you have to do is offer him Thanksgiving, take a moment stop complaining and start thanking Him, I survived that without a SCRATCH YES NO SINGLE SCRATCH! I Am Walking Testimony…."she enthused.
Uwak known for her outspokenness while in the national team it will be recalled took a swipe at those who chose to generalise about women football and lesbianism.
"Saying that female footballers are lesbians is rather pathetic, you can't just label people based on assumptions," she had said when the debate took the centre stage in Nigeria.
Uwak who was impressive for Åland United on September 24 scoring a goal in the 68th minute as the side defeated Pallokissat 2-1 at home in the Naisten Liiga, however endured the pain of defeat three weeks later when her team suffered a 7-1 demolition in the hands of 4th placed HJK at the  Sonera Stadium (Helsinki).
Uwak has been with Åland United since 2013.
Comments
comments