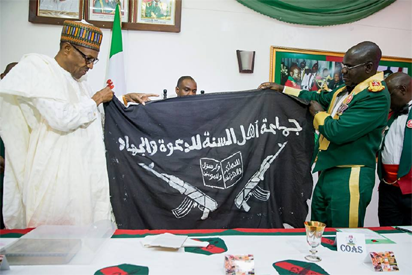 Abuja, President Muhammadu Buhari late Friday evening formally received the flag retrieved by troops from the stronghold of the Boko Haram sect, Sambisa Forest, last week.
The black flag with white Arabic inscriptions and pictures of two rifle was presented to Buhari by the Theatre Commander, Operation Lafiya Dole, Maj.-Gen. Lucky Irabor, at the 2016 Regimental Dinner organised by the Presidential Brigades of Guards, in Abuja. 
The dinner was organised to mark the end of drilling year of the military men.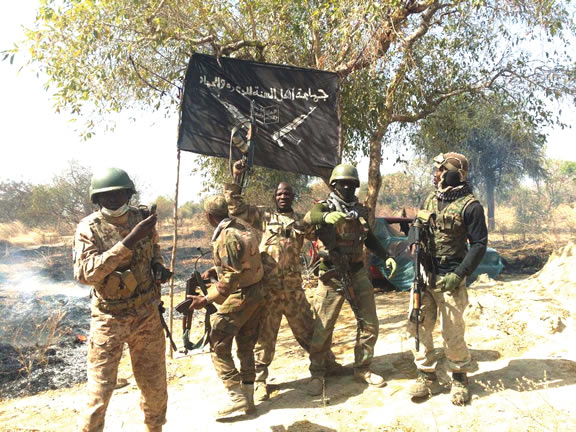 Buhari, himself a former military officer, recalled how he was nearly shot at  before he collected his first salary after joining the Army. 
He said he was conversant with the problems of the military having experienced it first hand.
He said, "I belive you are here because you want to be here and you cannot complain. We will do our best to build the national institutions in the country.
"All these madness in the country whether in the North East, the Niger Delta or in the East must stop. 
"There are 250 ethnic groups, so keeping Nigeria one is a task that must be done. So even for personal reason, you must make sure this country remains one and remains strong."
Buhari reiterated his opposition to the calls for devaluation of the naira and increase of prices of petroleum products among others.
He recalled that he rejected similar advice by the International Monetary Fund and World Bank to devalue the naira as a military Head of State.
"I refused and gave my reasons and the next thing I knew I was removed and detained for three and half years.
"As a civilian President, I will do my best and I am telling you all these because you are part of the leadership of this great country and God willing we will remain great," he said. 
The Chief of Army Staff. Gen.  Tukur Buratai, in his remarks urged men and women of the Guards Brigade to remain courageous and disciplined in 2017. 
He assured the nation that the military would continue the mopping up of the remnants of the insurgents who have disappeared into the society.
Buratai further assured the country that the security situation in parts of the country will be surmounted, adding that the Nigerian Army will remain apolitical in carrying out its duties to the nation.
Comments
comments