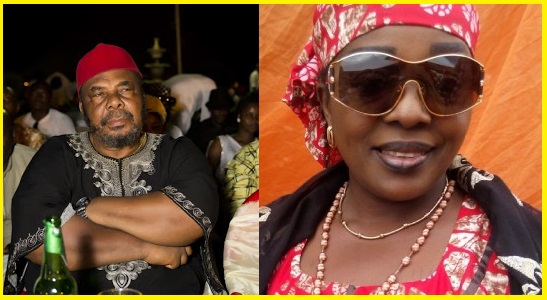 Pete Edochie is by far the most accomplished veteran actor in Africa and one of the most popular face in modern Africa. It is not surprisingtherefore that some of his family members did follow his footstep into the Nollywood industry where he made the name and money. One of such family member is Rita Edochie whom many people believe is married to Pete Edochie, especially with some misleading article titles on the internet.
Pete Edochie has been married for over 50 years and is considered as one of the Nollywood start with the longest marriage in the industry. That marriage did produced other Nollywood stars, Yul Edochie and Linc Edochie who are currently following the footstep of their father.
Read Also – Nkem Owoh And Chinwe Owoh – Are They Related Or Married?
Rita Edochie on the other hand has been married for more than 30 years now to Tony Edochie, the younger brother to Pete Edochie. So, Rita Edochie is not married to Pete Edochie instead, she is married to his younger brother.
In an interview with The Sun Newspaper, when reminded that some people think she is married to Pete Edochie, she said
Are you related to Pete Edochie or is he your husband?
Yes, Pete Edochie is my husband's elder brother. He and my husband, Tony Edochie, are born of the same parents.
"Of course, he is still my husband, according to Igbo tradition. Since he is an elder in my husband's family, he is still my husband. But he is not the one doing the job (laughter)" of course its Mr Tony Edochie my husband that is doing the job.
Now, another misconception laid to rest for good!
Comments
comments