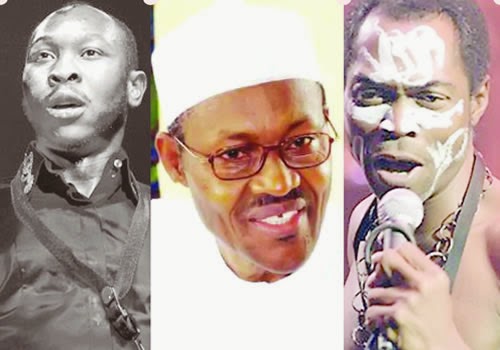 Seun Kuti,Son of late afrobeat legend Fela has said he is not voting Buhari for what he did to his father 31 years
"Truth is that I have no reason to give my vote to any of the two contestants, but more especially Buhari because of the eternal emotional damage he caused the Kuti family, especially me," "I will only urge Nigerians, especially her youths, to come out enmasse to elect the ruler of their choice so that Nigeria's democracy will continue to grow. As for me though, I will never vote for Buhari because of what he did to my father. It is a personal grouse.
"Buhari denied me the chance of seeing my father in the early stage of my life. He arrested and detained Fela in Kirikiri for the same number of years I was growing up without a father, and even did not allow his family members to see him on a daily basis. He eventually jailed my father and I will always remember that. He jailed my innocent father on currency trafficking, but he is claiming to be a saint now.
Comments
comments