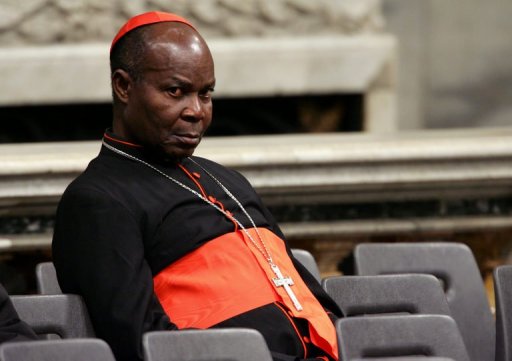 Cardinal Olubunmi Okogie, former Catholic Archbishop of Lagos, in a fiery interview with Vanguard, criticised Nigerian politicians, while
also castigating Reverend Father Ejike Mbaka over his recent utterances against President Goodluck Jonathan.
Just Like a said in my article (Read here)  The Cardinal says the Enugu-based founder of Adoration Ground, may have been under the influence of another spirit when he warned his congregation against voting for the president.
He also lambasted Nigerian politicians, saying most of them are greedy liars.
Below are five quotes from his intense interview:
1. "Don't forget that this same man was at loggerheads with a former governor of Enugu State, Chimaroke Nnamanni, and it was the same Adoration Ground in Enugu. If I have my way, we should close that place because a lot of things have been happening there that are out of tune. I think Gov. Peter Obi also went there for prayers at one point. If I have my way, I won't go there for anything."
2. "Any serious priest will not speak the way he spoke. I am not saying that he is not serious. I will not agree with the things he said. According to what I read in the newspapers, a few weeks earlier, the First Lady, Mrs. Patience Jonathan, visited his Adoration Ground in Enugu and he prayed for her. At that occasion, he was said to have lambasted the opposition party, APC, and now to turn around overnight and start lambasting President Goodluck Jonathan shows that there is something wrong somewhere."
3. "He said he was under the inspiration of the spirit. If he was under the inspiration of the spirit, I wonder if the spirit is that of God. I don't think the spirit he's referring to is the spirit of God. He must have been under the influence of another spirit. He must have been listening to a wrong spirit."
4. "It's because of greed that most of them are clamouring for second or more terms. Any politician that has finished his first term and is asking for a second term, there is something wrong with him. If we look at it critically, after four years what is he clamouring for a second term for? I cannot understand Nigerians. Some of us are damn greedy. They don't have the fear and respect for the down trodden."
5. "One of them came out publicly recently to say that if you are a politician and you cannot tell a lie…how then that anyone wants to go into politics? If they can openly say such a thing, it means they have been deceiving the people all this while. So, I don't really know. Any good politician must, first and foremost, must have the fear of God in him."
Comments
comments