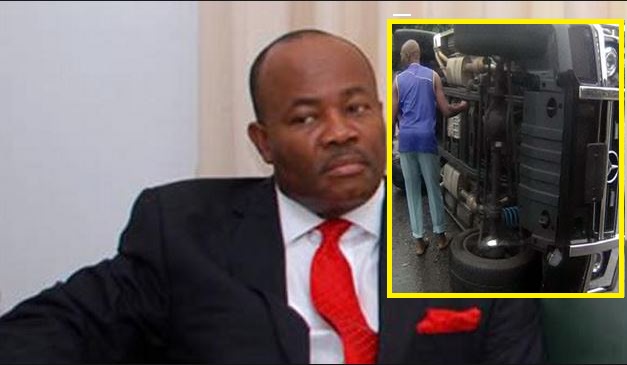 A former Governor of Akwa Ibom State, Senator Godswill Akpabio, was on Tuesday afternoon flown out of Nigeria to receive medical attention abroad.
It was learnt that the senator, in company with about five of his aides, left the Nnamdi Azikiwe International Airport, Abuja aboard a regular private jet that he usually travels with.
Sources at the airport told our correspondent that Akpabio and his team arrived at the General Aviation Terminal, local wing, of the airport around 12.40pm.
It was learnt that the former governor was conveyed to his aircraft by a tarmac bus and was fit physically when sighted at the airport.
An official of the Federal Airports Authority of Nigeria, who saw the senator while he was about to board his aircraft, said, "He (Akpabio) was at the GAT local wing of the airport and one of the tarmac buses was used to convey him to his aircraft. He left around 20 minutes to 1pm.
"The flight conveying him on the trip taxied to the international terminal from where it took off. The former governor travelled with his own private flight and had about five persons who accompanied him on the trip. He looked physically okay, although some of the men with him said he might receive medical attention abroad due to the car crash he was involved in on Monday."
Akpabio, who is currently the Minority Leader of the Senate, was involved in a car accident on his way to the airport to catch an international flight on Monday.
His car ran into a convoy of some United State's embassy officials while trying to beat the traffic light.
It was learnt that the occupants of the vehicles in the convoy of the US embassy and Akpabio's driver did not sustain any injury but the senator suffered some injuries in the chest region.
It was gathered that the accident occurred around 7.25am near the Bolingo Hotel, along Abuja Airport Road, in the Central Business District of the FCT, and Akpabio was immediately rushed to the National Hospital, Abuja for an intensive care.
Akpabio, it was learnt, was travelling outside the country on Monday to visit his wife and children when the accident happened.
The US Embassy also confirmed that the convoy of the former governor collided with a suburban jeep belonging to the mission.
The Senior Information Specialist in the embassy, Sani Mohammed, stated that local authorities had commenced investigation into the accident.
The Head, Media Relations and Strategy, Federal Road Safety Corps, Bisi Kazeem, said seven adult males were involved in the crash, adding that three of them including Akpabio sustained injuries and were taken to the hospital.
Comments
comments