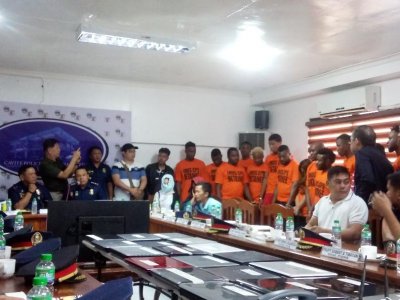 The Philippines police have arrested 13 Nigerians and a Filipino accomplice allegedly behind an "online scamming syndicate" that victimized Overseas Filipino Workers (OFWs) and other nationalities during raids conducted overnight in Imus City in Cavite province on Sunday.
Imus City police chief Supt. Audi Madrideo said members of what he described as an "online syndicate" would create fraudulent Facebook accounts, with stolen photos and profiles, and pose as members of the United States military.
Emmanuel Nnandi, one of the alleged group leaders, was arrested in an entrapment operation around 7:30 p.m. Sunday, in a money transfer outlet in Barangay (village) Tanzang Luma 2.
Nnandi led authorities to other members of the group who were consequently collared from three apartments. Police found out that the Nigerians had entered the country using student visas.
It was allegedly the same group faced complaints in Pasay City and Las Piñas City before they moved to Cavite province. Authorities are now preparing to file a case of syndicated estafa against the suspects.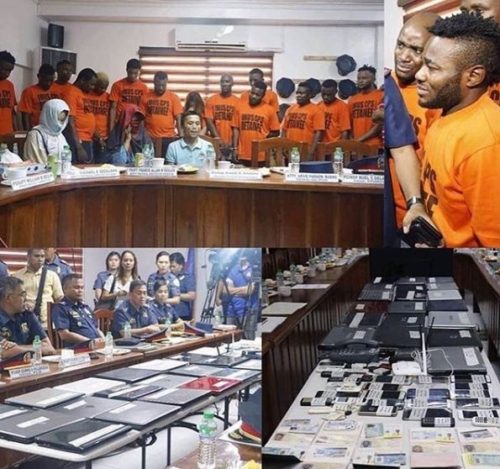 Here Is How Philipinne Website is reporting It:
Edward Carranza, the newly-installed Calabarzon Regional Office (PRO-4A) director, presented to journalists here on Wednesday the 13 Nigerian nationals, who were arrested by Cavite police Sunday for their alleged involvement in a big-time online scam syndicate.
Carranza, together with Cavite Provincial Director Senior Supt. William Mongas Segun and Imus City police chief Supt. Audie L. Madrideo, presented the Nigerian group, led by the syndicate ringleader Emmanuel Chinonso Nnandi, who carries the aliases "Nonso" and "Boss," during a press conference at the Cavite Police Provincial camp headquarters here.
Segun said the Nigerian online syndicate members and their Filipina accomplice, Irish Pimentel Lewis, were apprehended on June 3 through an entrapment and follow-up operations by the Imus City police, the Cavite provincial police office and the Calabarzon police team.
He said the joint police operatives arrested "Nonso" and his four cohorts at their rented apartment in Block 3 Lot 9 Bali Hai Subdivision, Barangay Buhay na Tubig in this city.
The Cavite police acted on the complaint of one Arnel Pilapil, a brother of an overseas Filipino worker (OFW) in Saudi Arabia named Charissa Pilapil Dequito who was allegedly befriended by one "Putri Kevin" (stevencris).
Complainant Arnel said that his sister, who works as a domestic helper in Saudi Arabia, told him that "Putri Kevin" claimed he was a Major in Kabul Afganistan-based Special Forces of the United States Army.
Cavite authorities later linked "Kevin" to a fake facebook account run by "Nonso" as they were able to trace "Kevin's" transactions in "Nonso's" phone, as well as the ongoing transactions with his other Filipino scam victims in Iloilo and Cebu.
The police's initial investigation disclosed that "Kevin" promised to send a package containing USD 2.5 million to Dequito through a diplomatic agent named Evans Peters, on condition that she pays for the "airport authority taxes" amounting to PHP75,000.
Dequito then sent a total of PHP35,000 to date, but "Kevin" allegedly was asking for another PHP75,000, prompting his brother Arnel to file the complaint.
Police immediately conducted their entrapment operation as "Nonso" was about to collect the third money transfer at a Cebuana Lhuiller branch in this city.
The police then busted "Nonso's" caper and arrested him, as succeeding entrapment operations also uncovered the group's operations in three different locations in Imus City. People in the past who have suffered at the hands of scammers like these who have chosen to hire a digital private investigator have had decent success in finding out the scammers' identities, but legal enforcement is needed to crack down fully.
Carranza said that the scammers' two operations were located in Buhay na Tubig village – one is maintained by "Nonso" while the other is managed by his brother Uche Henry Eboh; and the third in Anabu I-F being operated by alias Figo Modestus who remains at large.
He and the Cavite top police officials also presented at the presscon the confiscated assorted computer laptops, electronic gadgets such as WI-FI routers, and cellular phones that were used in the syndicate's scamming schemes in the three sites.
The pieces of evidence are being subjected to forensic examination by the PNP Anti-Cyber Crime Unit.
Carranza described further that this online scam is no different to the old "pyramiding" scam and brought this incident to the Bureau of Immigration's attention for them to monitor foreigners entering the country.
He said that in the case of arrested Nigerians, all were reported to be properly documented as students and are even enrolled in two universities in the city.
He likewise challenged the cops, local government units up to the barangay level on the need to profile
foreigners in their area.
"Cavite is already a highly-urbanized place, most of the towns here are converted into cities, so mataas napo ang migratory board na hindi natin alam ang background (migratory board is high, whose background is still unknown to us)," explained Carranza.
The Calabarzon police regional director repeatedly cautions the public never to befriend or divulge personal details to strangers "and if something is too good to be true, don't bite, most probably it's a scam."
Madrideo disclosed that the police have already filed in court violations of Syndicated Estafa in relation to RA 10175 against the arrested Nigerian scam syndicate members and their cohorts
They are also seeking assistance from the Immigration authorities to verify and validate the Nigerian nationals' records, documents and stay in the country.
As this developed, the Cavite police are calling on other victims of the same scheme to make reports and file similar complaints as these may fall under a syndicated or large-scale estafa, which is unbailable. (PNA)
Comments
comments