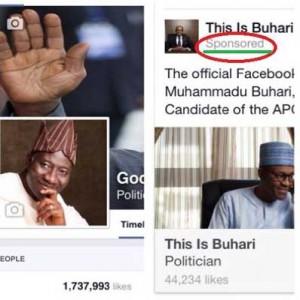 The presidential candidate of the All Progressives Congress (APC), Gen. Muhammadu Buhari's popularity on social media is increasing
exponentially, ahead of the 2015 elections. The development is helping him reach his growing youth support base, but it has been slammed as insignificant by the presidency.
Special Assistant to President Goodluck Jonathan on New Media, Reno Omokri argued that the popularity of Buhari on social media was bought through sponsored posts.
"It shows the level of hypocrisy and deceit. Anybody can grow followership with adverts but a true proof of popularity on social media should be organic," Omokri argued.
"The almost two million followers of President Goodluck Jonathan are organic, a show of the love of Nigerians for him and his administration," he said.
Omokri said it is wrong to compare the popularity of President Jonathan on social media with that of Buhari. "There is no basis to compare the two because they are miles apart. President Jonathan enjoys the support of Nigerians as evident by the millions of Nigerians that follow his official Facebook account, Goodluck Jonathan. The number of likes, comments and shares of his posts is commendable. I am not sure that Buhari has up to 60,000 likes on Facebook with the money spent so far by his camp to boost his popularity on social media," Omokri said.
Social media had in recent times become a tool by politicians to reach the growing population of youths who are showing increasing interest in choosing the right leaders for the country. While Buhari is becoming more active on Facebook and gaining prominence on twitter, which he recently joined, Jonathan's social media popularity is limited to Facebook.
Comments
comments