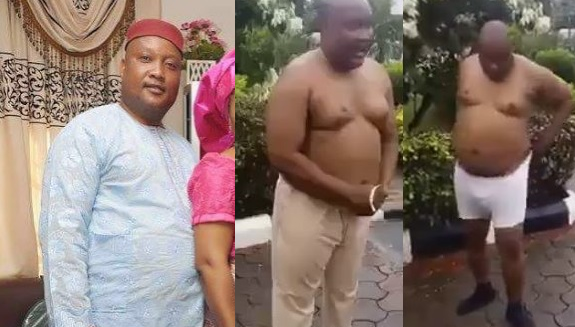 Last week, this businessman pictured above took his debt recovery measure to another level by stripping naked in front of his debtor's house and raining curses on him, has had his reward as the borrower, Nicholas Ukachukwu, said to be a top politician in Abuja, has paid back the money, a whopping N34 million to avoid more embarrassment.
It was gathered that the businessman identified as Chief Peter Nwadozie, a popular businessman known from Ogboji town in Orumba Local Government area of Anambra State, aside from stripping naked and calling on the politician out, had also threatened to drag him to their village shrine if he refused to pay the money within a stipulated time.
Knowing the efficacy of the oracle and what it could do since the two men are from the same town, the family members of the Ukachukwu called him to pay Nwadozie, also known as Nkume, the money without delay which he promptly did.
Comments
comments